Katana, Guntô Koshirae

[ Signature ] omote : - ura : Yukihiro tsukuru "幸広作"

[
Size
]
Blade length 65,4cm (2 shaku 1 sun 5 bu 8 rin), sori 1,4cm (4 bu 6 rin), moto-haba 3,12cm, moto-kasane 0,76cm, saki-haba 2,19 cm, saki-kasane 0,59 cm, mekugi-ana(hole) 1, blade weight 810,5g
, koshirae length 96cm
[ Period ] Around Shôwa 18-20
[ Province(prefecture) ] Fukuoka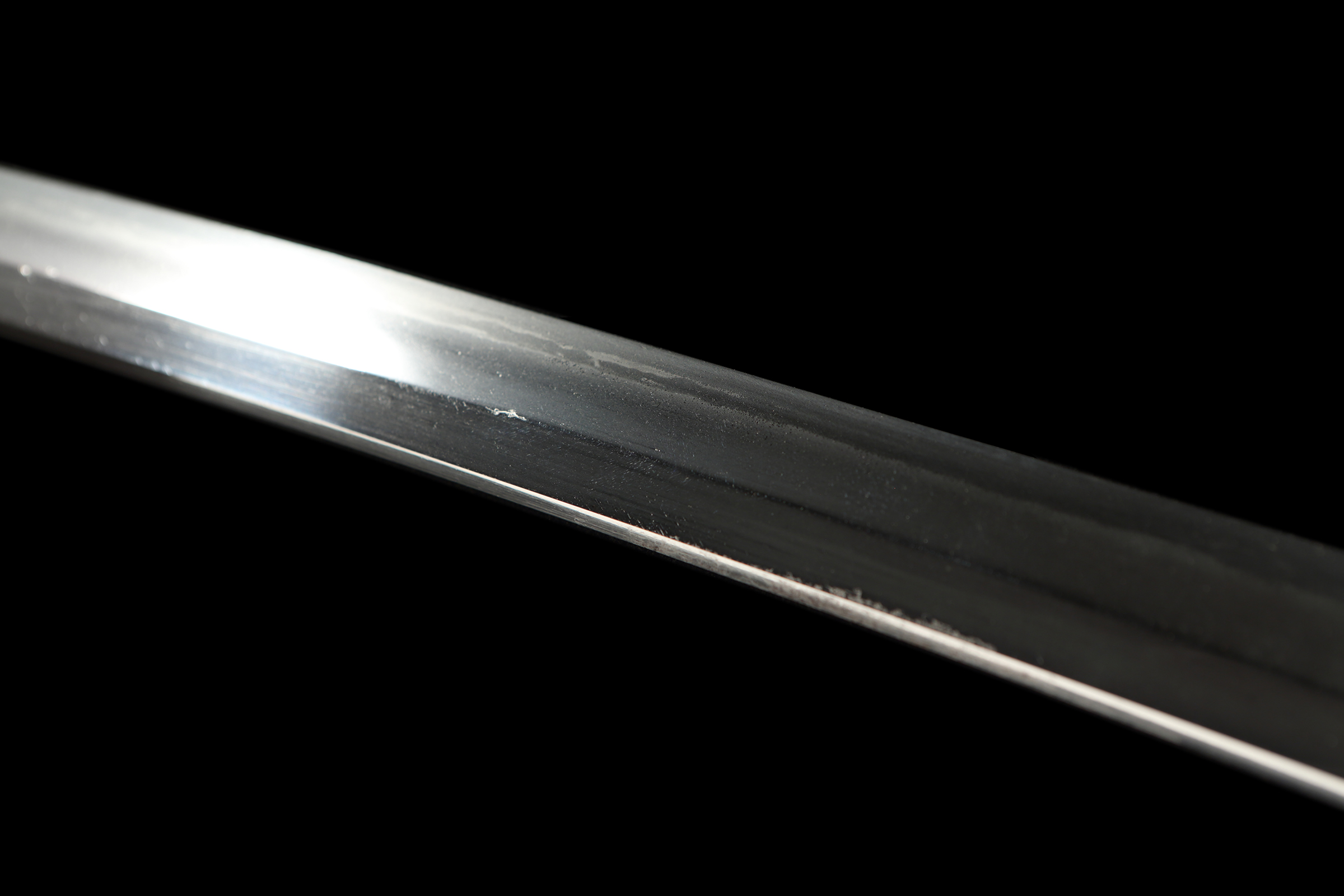 [ Feature ]
Form : Shinogi-zukuri. Iori-mune. Mihaba is ordinal. Kasane is slightly thick. There is difference between moto-haba and saki-haba. Moderate sori attached. Chû-kissaki form.
Nakago : Ubu. Yasurimes are kiri. Saki is iri-yama-gata. One hole.
Jigane : Ko-itame-hada well grained. Jinie attached.
Hamon : In sugu-tone. Nioi-kuchi is clear. It runs in shallow notare. Ko-gunomes mixed. Ko-ashis and yôs appeared. Nie attached well. Part by part, ni-jû-bas appeared.
Boushi : (omote): It runs in notare-komi. Saki turns in togari-gokoro pointy. (ura) : It runs in midare-komi. Then it turns in komaru.

[ Highlight ]
The tempering width yaki-haba maitains equal between moto and saki. Nioi based suguha, which nioi-kuchi around koshi-moto has clear state. There are few changes in hamon. Neverthless, from the middle of sword toward mono-uchi, it shows rich nie. It shows variety of changes, such as gunomes and ni-jyû-bas appeared. As result, they make hamon composure contrastive. The thickness kasane is so firm. The sword length is slightly shortend Army sword.
Swordmith Yukihiro had his common name MUTÔ Hachirô. He was born in Meiji "明治" 35(1902). He lived at Enokizu, Mizuma county, Fukuoka prefecture(current Enokizu honchô, Ôkawa city, Fukuoka prefecture). His grand father was MUTÔ Shinano-no-kami Hisahiro, his father was second generation MUTÔ Hisahiro (his common name was Kisaburô), and his elder brother was MUTÔ Hideyoshi (his common name was Hidehiro). He was appointed as an official swordsmith of Imperial Army in Shôwa 18(1943). During the post war time, in March Shôwa 46(1971), he was approved to be an official swordsmith. He continued to create the swords earning prize-winning works at Shinsaku-Meitô-ten exhibitions.

[ Conditions ] There are some rust and scratches so that poliment is not perfect. However, it remains its ubu-bas unpolished original blade. Below 4cm of yokote, there is ha-kobore nicke edge, something like sticky blade forced to be opened a little. 8mm below yoko-te, on shinogi-suji, there is 2mm long kirikomi-kizu flaw. Koshirae maintains excellent conditions.
[ Attachments ] Habaki (suaka-ji, single), koshirae and bag of koshirae.


[
Item number
] A110918 [
Price
]
JPY 280,000- -> JPY 250,000-
(shipping and insurance fee are not included)
PRICE DOWN!