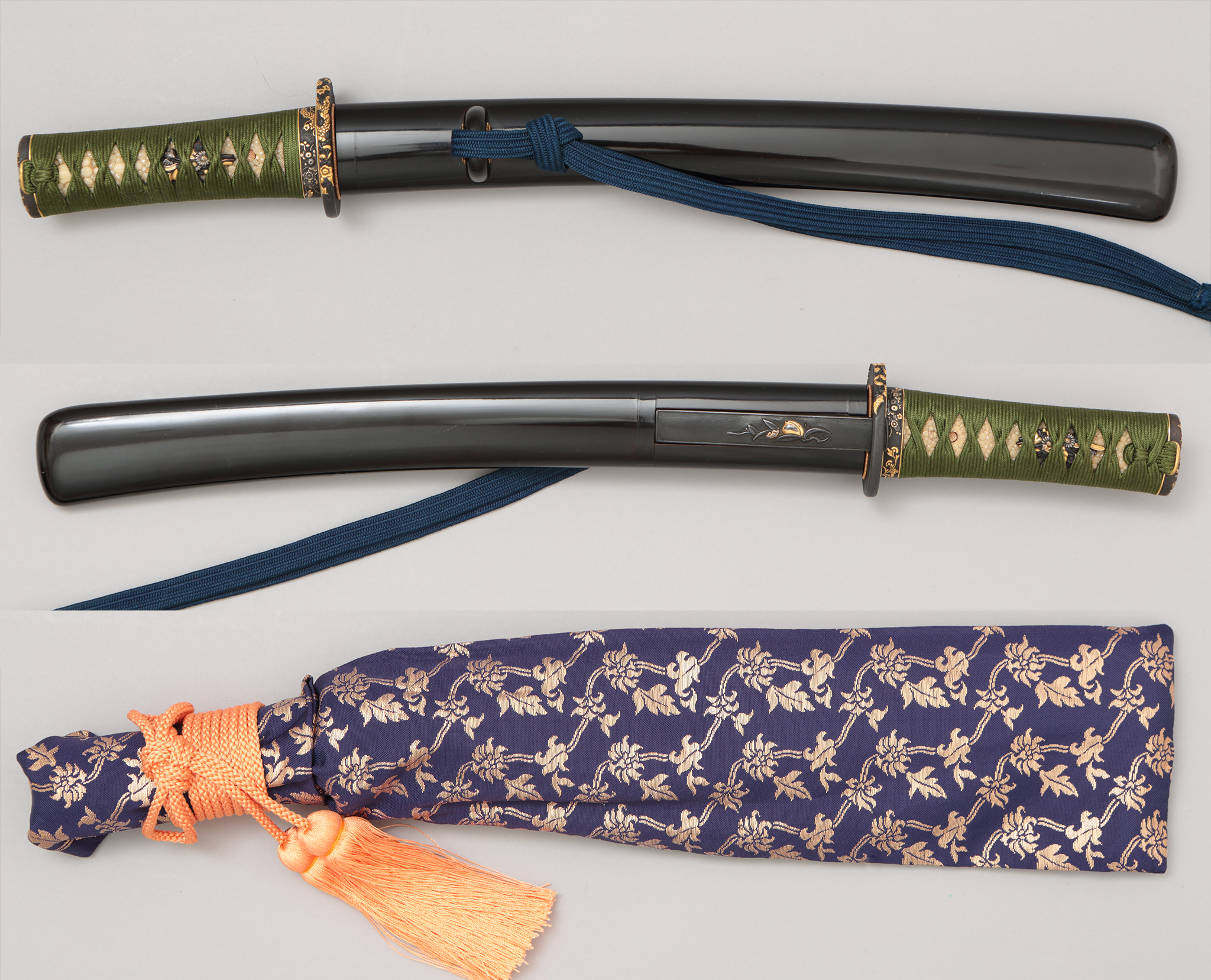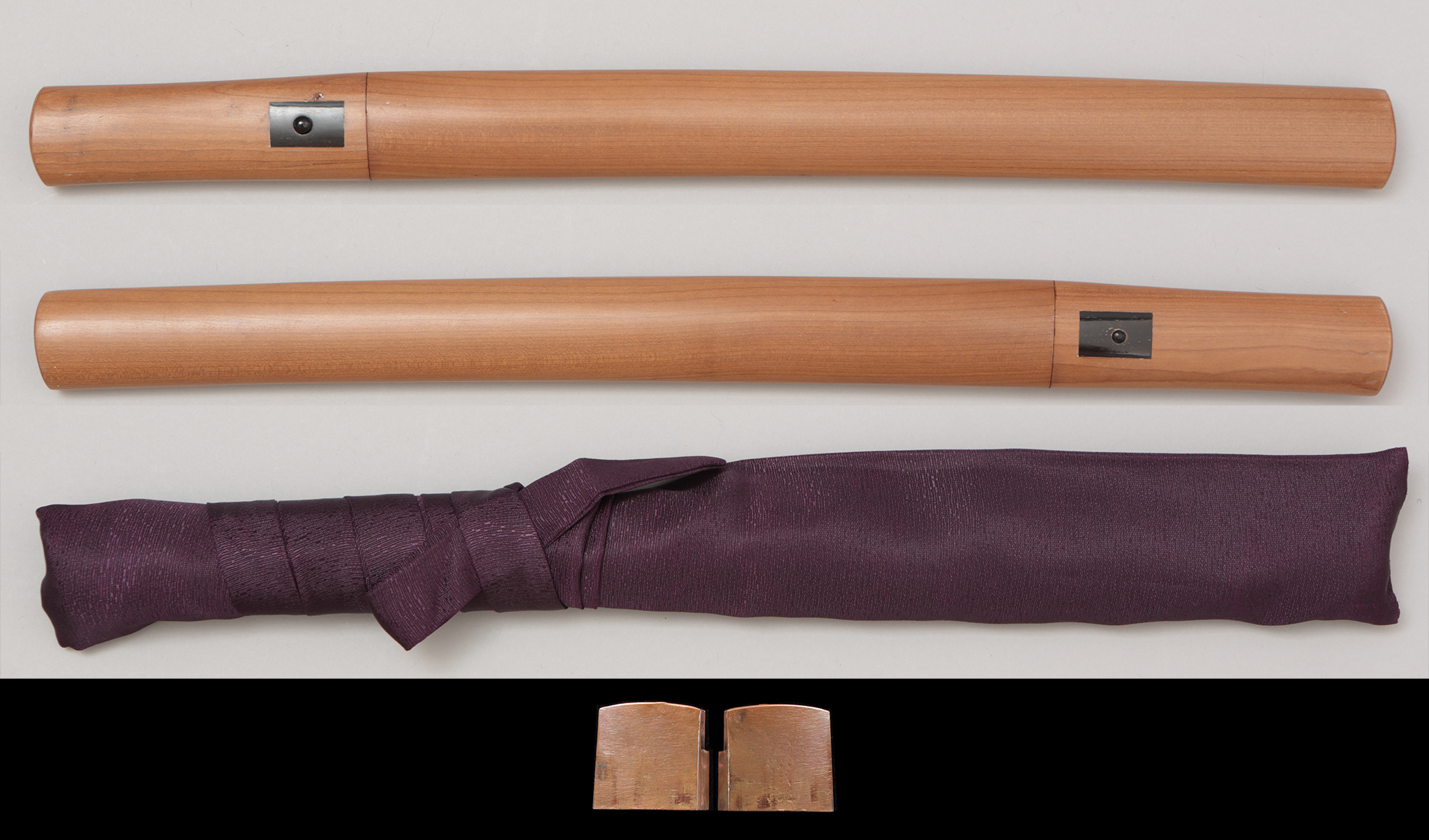 Tanto, Shirasaya, Koshirae

[ Signature ] omote : Kanenori "兼法" ura : -

[
Size
]
Blade length 29,8cm (9 sun 6 bu 6 rin), sori 0cm (-), moto-haba 2,70cm, moto-kasane 0,64cm, mekugi-ana(holes) 2, blade weight 212,5g
, shirasaya length 47cm, koshirae length 47cm
[ Period ] Muromachi, second half of
[ Province ] Mino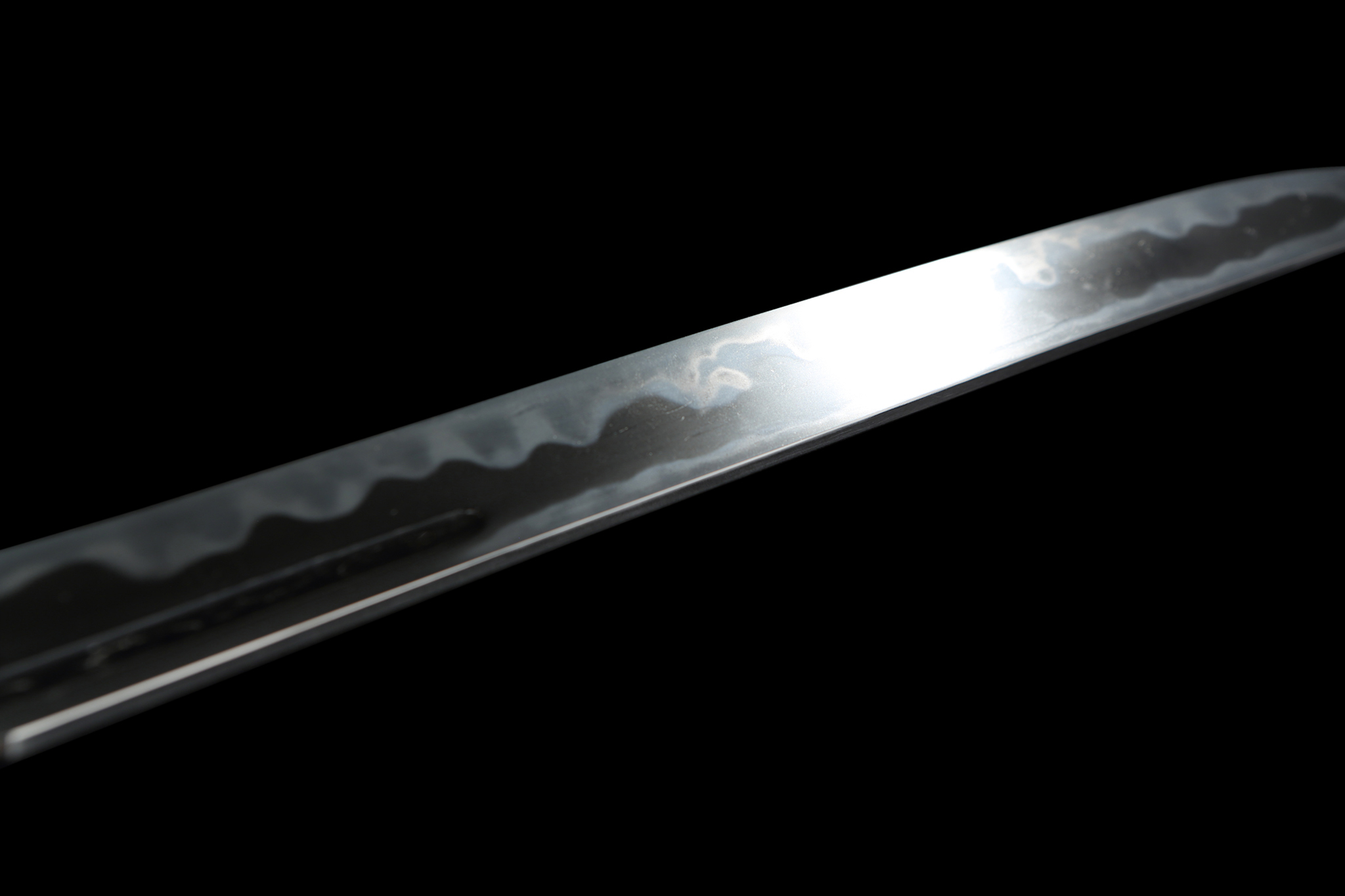 [ Feature ]
Form : Hira-zukuri. Iori-mune. Both mihaba and kasane are ordinal. No sori attached form.
Nakago : Ubu. Yasurimes are hi-gaki. Saki is kuri-jiri. Two holes.
Horimono : omote ; koshi-hi groove in kaki-nagashi. ura ; goma-bashis, mune side longer, two lines finish around machishita below machi point.
Jigane : Itame-hada. Jinie attached. In shirake-gokoro.
Hamon : Gunome-chô-ji-midare. Yaki is wider than usual. Ashi-s appeared. Nie attached well. Sunagashi appeared. Tobi-yakis tempered.
Boushi : It runs in midare-komi. Saki turns in round. Then a little it shows midare-komi. Yaki-sage length is long.

秋草図金具黒呂色塗鞘小さ刀拵 : 鐔(赤銅魚々子地)、縁頭(赤銅魚々子地)、目貫(赤銅容彫)、桃実図小柄(赤銅魚々子地)

[ Highllight ]
Kanenori was a name of swordsmith group, who worked around second half of Muromachi period at Seki, Mino province. There were some generations in same name. Later, some of them moved to other provinces. In same name Kanenori, they worked actively such as Shinano, Tô-tô-mi or Echizen provinces. Famous feudal lords such as ASAKURA Takakage or SHIBATA Katsuie hired them as well. Their names continued till Shintô era in Kaga, Echizen and Mino province.This sword has nie appeared bright hamon, nie attached as well. The hamon reminds us Kenbô-midare, round and larger size gunome-midare-chô-ji. A vital sword.

[ Conditions ] There is small hike scratch around monouchi of omote side. Koshirae has tiny dents and scratches on kuro-ro-iro-nuri-zaya, but it is excellent in general.
[
Attachments
] Habaki (suaka-ji, single), shirasaya, bag of shirasaya and
NBTHK Hozon paper (issued on 13th May Heisei 26(2016))

[
Item number
] A070918 [
Price
]
JPY 650.000- -> JPY 500.000-
PRICE DOWN!
(shipping and insurance fee are not included)