Katana, Shirasaya

Wakasa no kami Minamoto Hiromasa

[ Signature ] omote : "若狭守源廣政作之" ura : -

[
Size
]
Blade length 70.8cm (2 shaku 3 sun 3 bu 6 rin), sori 1.2cm (3 bu 9 rin), moto-haba 3.41cm, moto-kasane 0.78cm, saki-haba 2.38 cm, saki-kasane 0.58 cm, mekugi-ana(hole) 1, blade weight 823.5g
, shirasaya length 97.5cm
[ Period ] Edo, around Enpô "延宝"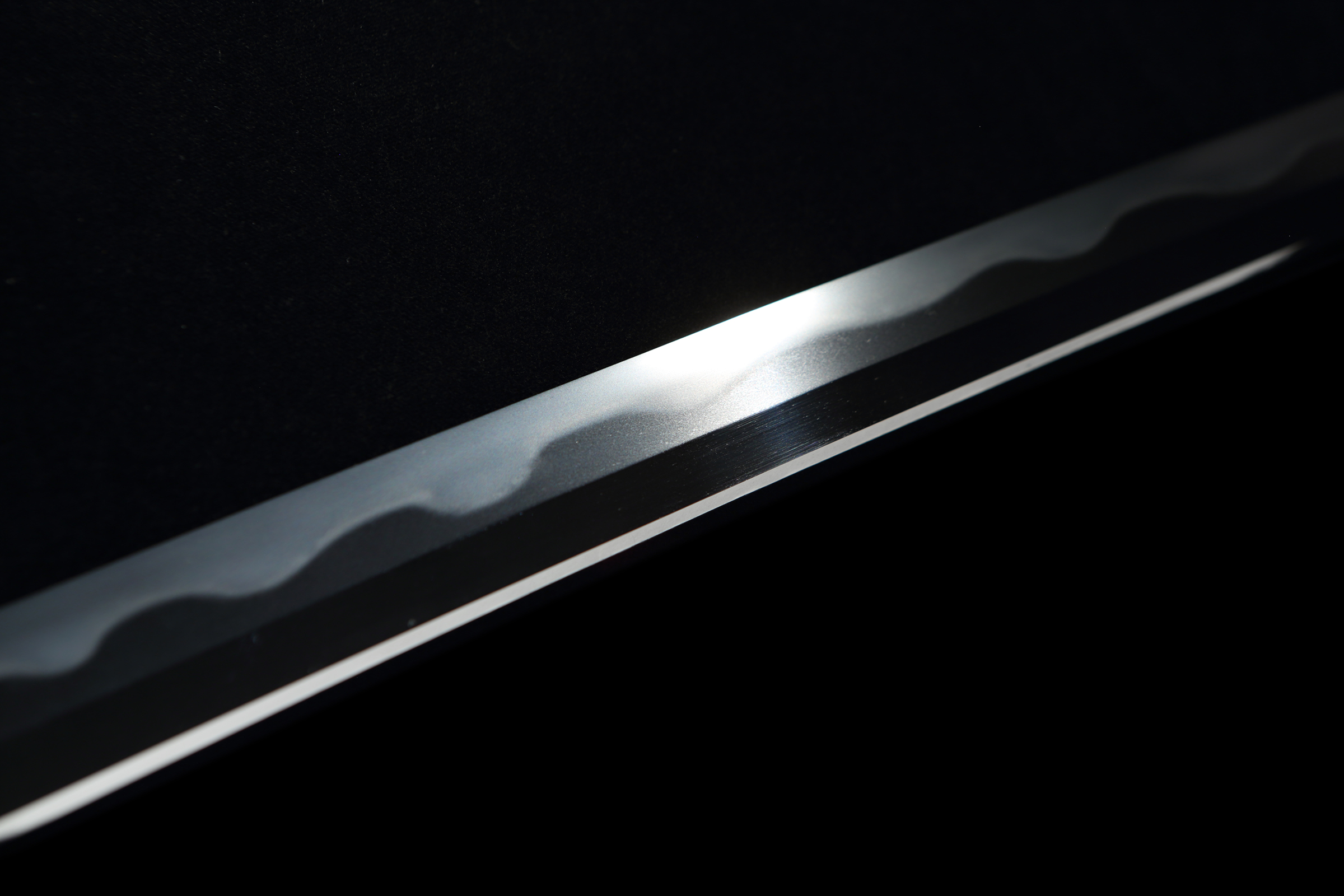 [ Feature ]
Form : Shinogi-zukuri. Iori-mune. Mihaba is wide. Kasane is thick. There are differences between moto-haba and saki-haba. Shallow sori attached. Chû-kissaki form.
Nakago : Ubu. Saki is iri-yama-gata. Yasurimes are suji-kais. One hole.
Jigane : Ko-itame-hada well grained. Jinie attached. Chikei appeared.
Hamon : It begins with yakidashi in long notare. Ô-notare, gunomes mixed. Ashi, deep nioi appeared. Nie attached well. Sunagashis appeared. A little, toib-iyakis appeared.
Boushi : It runs in sugu and komaru. Saki is haki-kake. It turns relatively long.

[ Highlight ]
Wakasa-no-kami Hiromasa was a pupil of Tsuda Sukehiro. He was a swordsmith who created the swords around Enpô "延宝" through Genroku "元禄" at Ô-saka. He lived at Motomachi-Higashi, Osaka. He had his signature such as "若狭守源廣政", "源廣政", etc. As time signature, he had "延宝二", "元禄四", "元禄九", etc. His swords are known as waza-mono "業物". This sword has sturdy form. Healthy shape with good balance of iron distribution. Well grained ko-imtame-hada. Evenly size nie attached. Spelendid dô-ran-bas are tempered.

[ Conditions ] Excellent.

[ Attachments ] Habaki (suaka-ji, gold foiled, double), shirasaya, bag of shirasaya and NBTHK Tokubetsu kichô paper (issued on 24th April Shôwa 41(1966))

[
Item number
] A061218 [
Price
]
SOLD