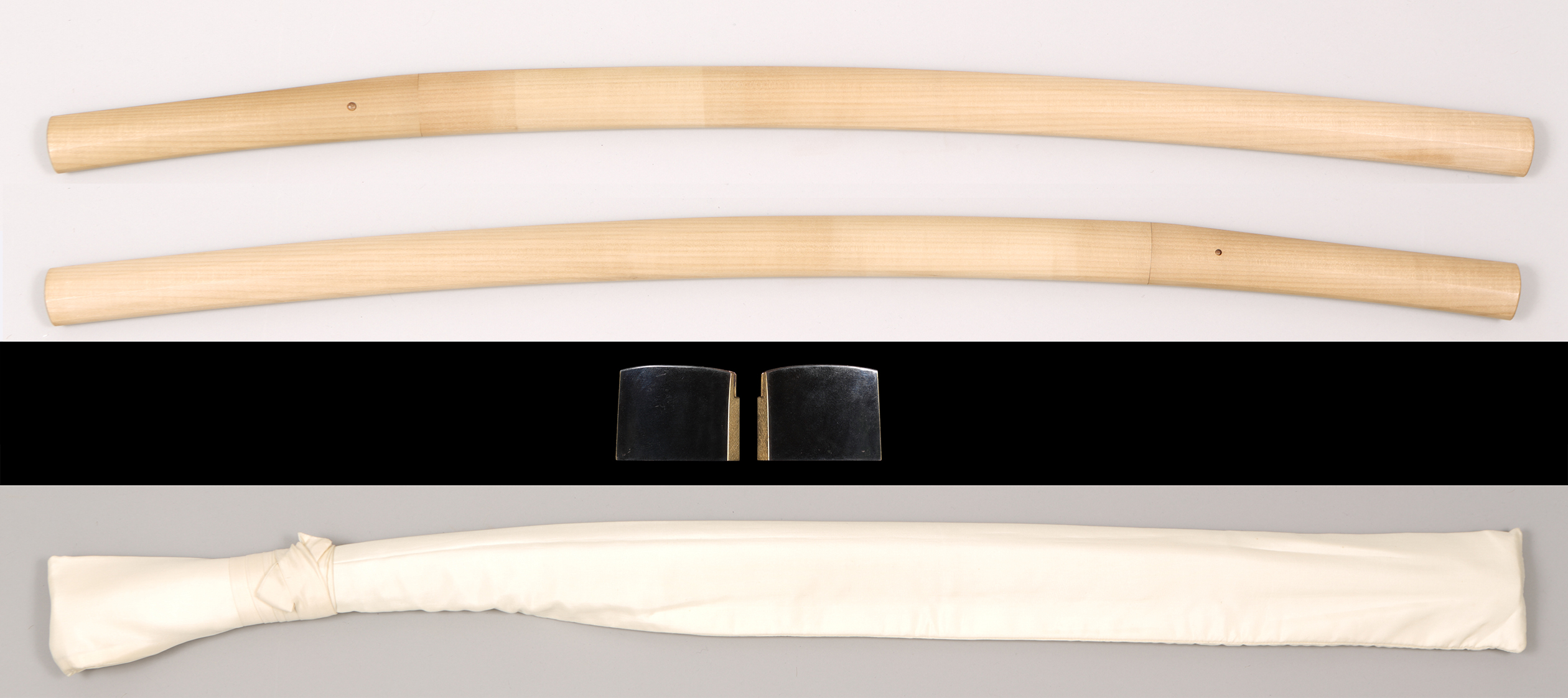 Katana, Shirasaya

Kawachi no kami Kunisuke, 2nd generation

[ Signature ] omote : Kawachi-no-kami Kunisuke "河内守國助" ura : -

[
Size
]
Blade length 69,8cm (2 shaku 3 sun 0 bu 3 rin), sori 1,4cm (4 bu 6 rin), moto-haba 3,06cm, moto-kasane 0,71cm, saki-haba 2,02 cm, saki-kasane 0,45 cm, mekugi-ana(holes) 2, blade weight 651g
, shirasaya length 100cm
[ Period ] Edo, first half of
[ Province ] Settsu
[ Feature ]
Form : Shinogi-zukuri. Iori-mune. Both mihaba and kasane are ordinal. There is diffrence between moto-haba and saki-haba. Saki-zori attached. Chû-kissaki extended form.
Nakago : Ubu. Yasurimes are suji-kais with keshô. Saki is ha-agari-kuri-jiri. Two holes.
Jigane : Ko-itame-hada well grained. Jinie attached.
Hamon : Yakidashi is sugu. In nioi-tone, chô-ji-midare, gunomes mixed. Yaki-ba tempering shows up and down line. Nie attached well. Long ashis, sunagashis, and tobi-yaki tempering appeared.
Boushi : It runs in sugu, then turns in ko-maru.

[ Highlight ]
Hamon, which attached rich nie, has wide range of changes. Nioikuchi is so bright and clear. Chôji-midare hamon which mixed kobushi-gata chô-ji and gunomes are so gorgeous. It shows the characteristics of second generation Kunisuke. Kawachi-no-kami Kunisuke was a pupil in HORIKOAWA Kunihiro, then he moved to Ô-saka. There were some generations in same name. This sword was created by second generation Kunisuke. He was known as Naka-kawachi "中河内" (literally inbetween first and third generations) in general.


[ Conditions ] There is tiny hike scratches but it shows excellent condtions.

[
Attachments
] Habaki (shakudô plate
ji
, single), shirasaya, bag of shirasaya and
NBTHK Tokubetsu hozon paper ( issued on 31st January Heisei 26(2014))

[
Item number
] A100918 [
Price
]
JPY 900.000
(shipping and insurance fee are not included)