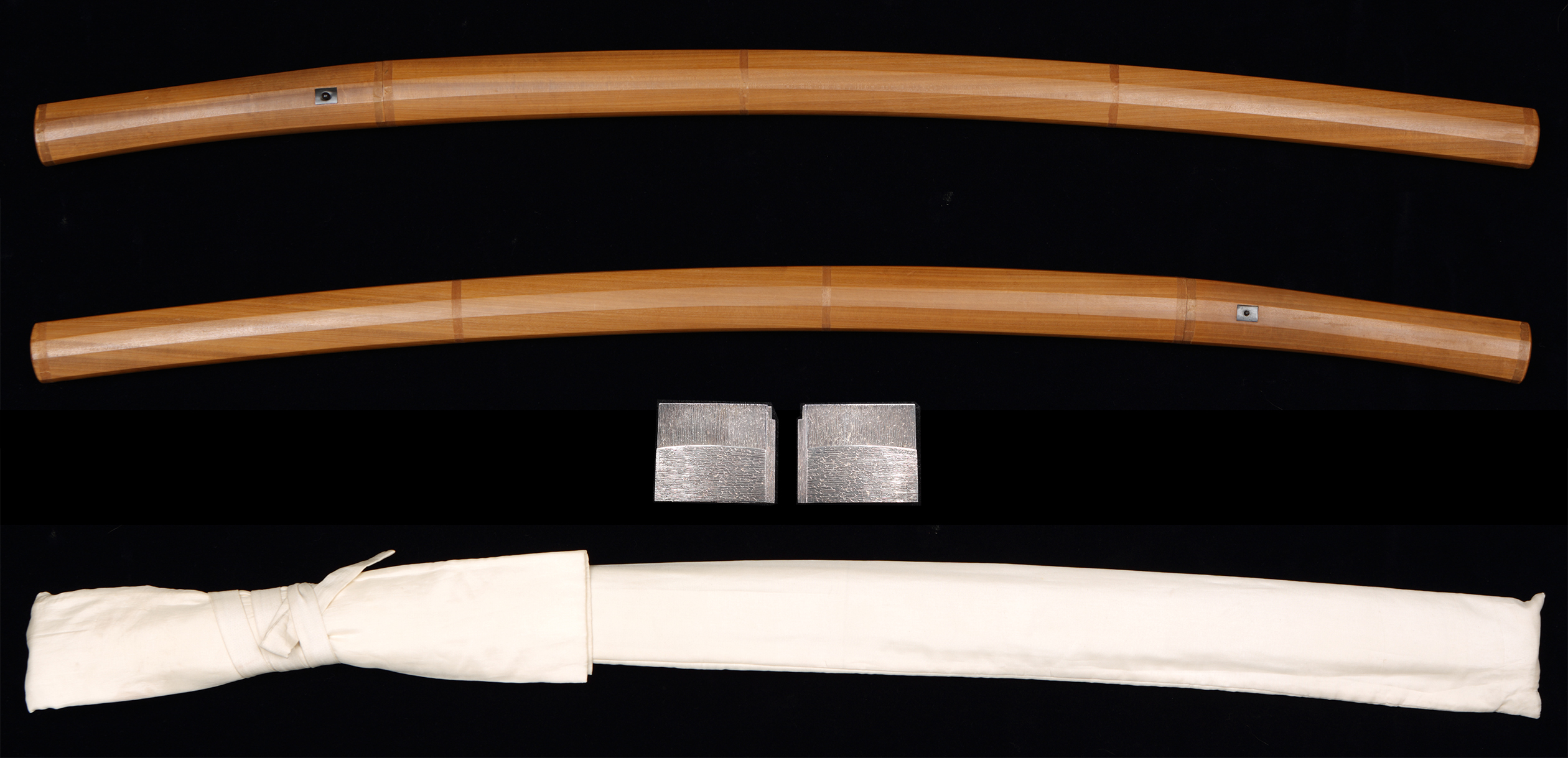 Katana, Shirasaya

[ Signature ] omote : TÔSE Keiji shi no motome ni ouzite RYÛSEISHI Suketsune tsukuru "應東瀬啓二氏需龍清子祐恒作" ura : -

[
Size
]
Blade length 74,3cm (2 shaku 4 sun 5 bu 2 rin), sori 2,0cm (6 bu 6 rin), moto-haba 3,74cm, moto-kasane 0,80cm, saki-haba 2,63 cm, saki-kasane 0,40 cm, mekugi-ana(hole) 1, blade weight 1,173g
, shirasaya length 104cm
[ Period ] Shôwa 43(1968)
[ Province (prefecture) ] Tokyô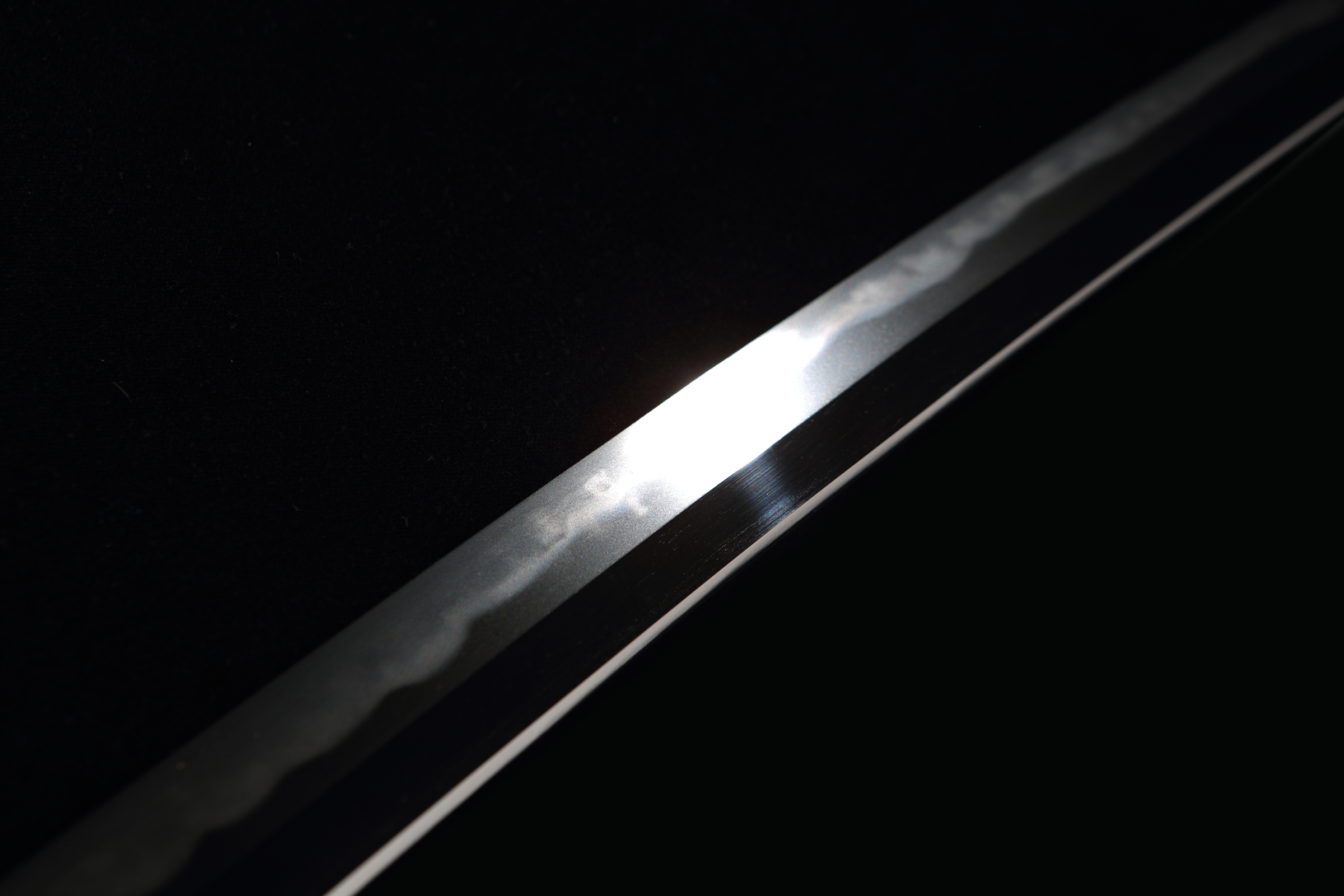 [ Feature ]
Form : Shionogu-zukuri. Iori-mune. Mihaba is wide. Kasane is thick. Sori attached. Saki-haba does not become so narrow. Chû-kissaki extended.
Nakago : Ubu. Yasurimes are ô-suji-kais and keshôs. Saki is kuri-jiri. One hole.
Jigane : Ko-itame-hada. Nagare-hada mixed. Jinie attached. Pale chikei appeared.
Hamon : Chô-ji-midare and gunomes mixed. Ashis and yôs appeared. Ko-nie attached. Deep nioi, kin-suji and sunagashis appeared. Partly ara-nie attached. Tobi-yakis and yu-bashiris appeared.
Boushi : It runs in midare-komi, then turns in ko-maru.

Swordsmith RYÛSEISHI Suketsune had his real name KATÔ Kazuaki. He was born on 3rd November Shôwa 3(1928). He was a swordsmith of Meguro ward, Tokyo metropolitan. He learned creation of swords from his grand father Sukekuni (who was a pupil of HORII Taneaki) and his father Tsuneyasu. He succeeded the name Suke"祐" from grand father and Tsune"恒" from his father, one character by one. He was accredited to create the swords on 13th March Shôwa 43(1968) so that this sword was created first year of his swords creation as independent swordsmith with the signature which shows custom made order chû-mon-uchi. In his 40 years old, some pure and innocent felling can be seen. 2 shaku 4 sun and half long, sturdy and heavy volume make. Vivid and lively hamon, such as ko-itame-hada which mixed nagare-hada jigane forging, deep nioi, ko-nie well attached chô-ji-midare hamon which appeared kin-sujis and sunagashis.

[ Conditions ] Not so significant but there are some scratches hikes. At the ha saki of ura side and on the mune above 2cm of hamachi, there are pale rusts.
[
Attachments
]
Habaki (silver, double), shirasaya and bag of shirasaya.

[
Item number
] A100618 [
Price
]
JPY 380.000
(shipping and insurance fee are not included)