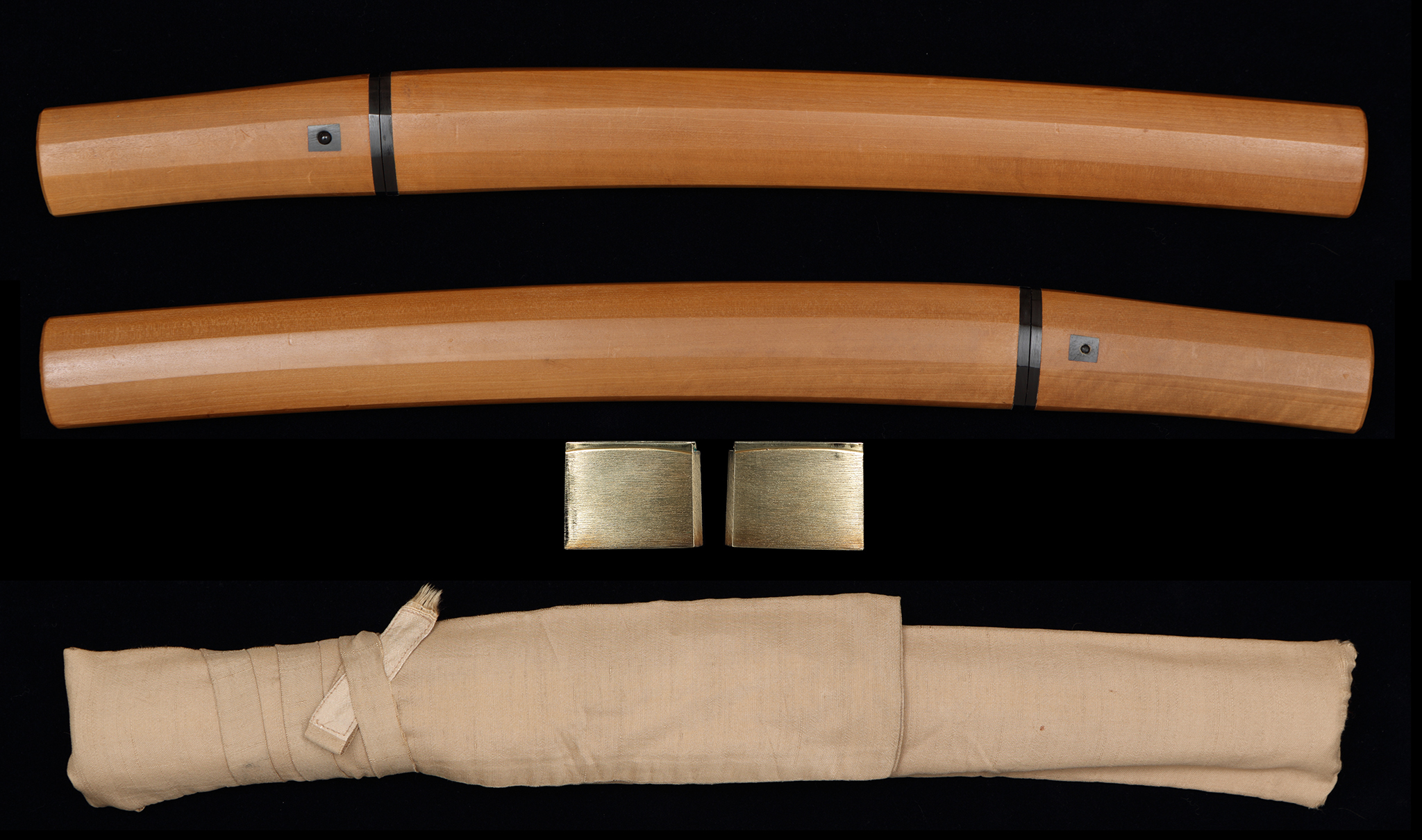 Wakizashi, Shirasaya

[ Signature ] omote :IKKANSAI Taikei Heisei gan-nen satsuki ki-sshô-jitsu "一貫斎大慶 平成元年皐月吉祥日" ura : Na-mu dai-nichi-nyo-rai Na-mu myô-hô-ren-ge-kyô "南無大日如来 南無妙法蓮華経" 

[
Size
]
Blade length 31,6cm (1 shaku 0 sun 4 bu 2 rin), sori 0,4cm (1 bu 3 rin), moto-haba 3,79cm, moto-kasane 0,76cm, mekugi-ana(hole) 1, blade weight 399g
, shirasaya length 51cm
[ Period ] "平成元年" Heisei 1 (1989)
[ Province (prefecture) ] Niigata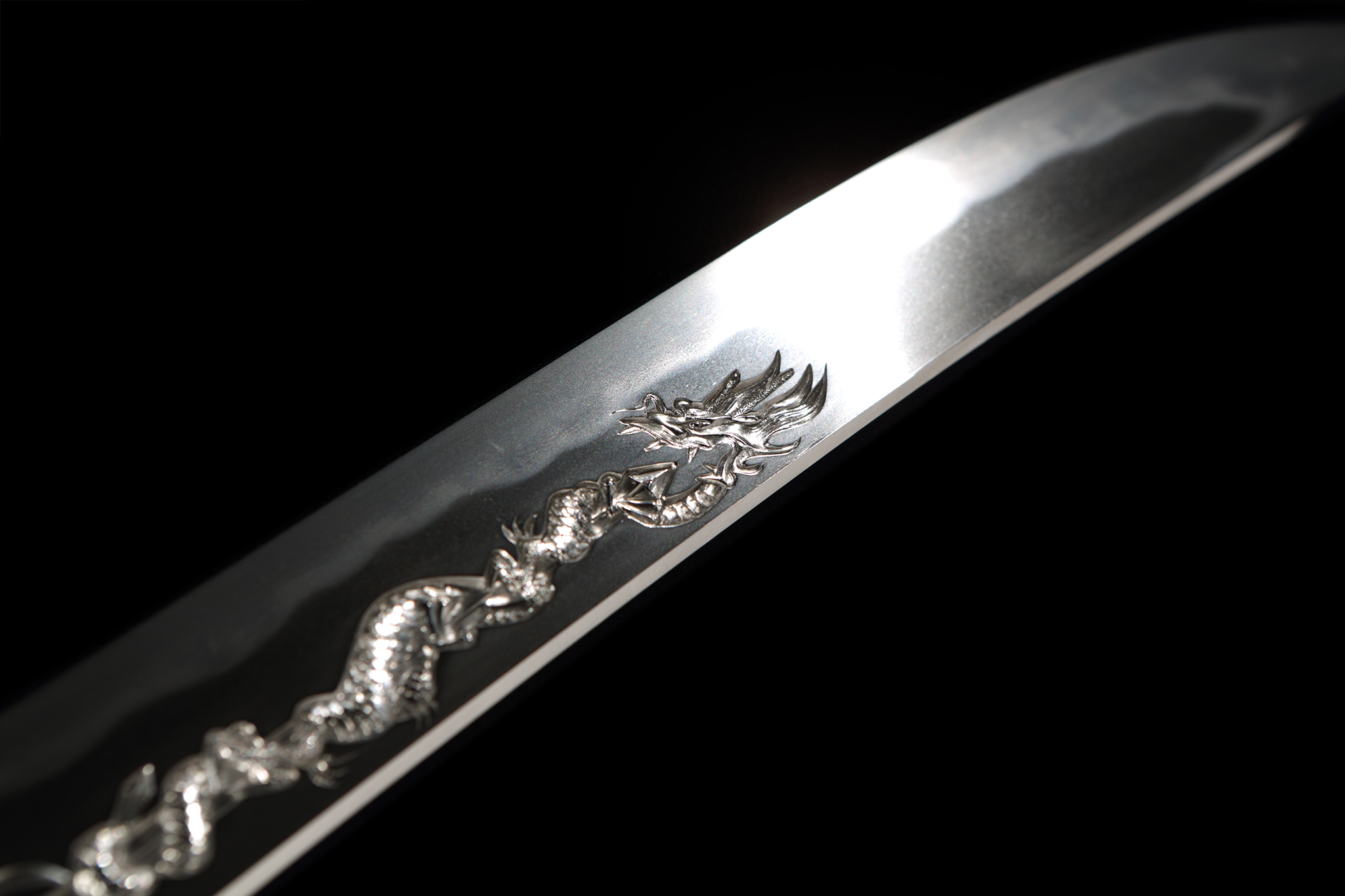 [ Feature ]
Form : Hira-zukuri. Iori-mune. Mihaba is extremely wide. Kasane is relatively thick. Saki-zori attached. Fukura shows kareru state.
Nakago : Ubu. Yasurimes are suji-kais. Saki is ken-gyô. One hole.
Hori-mono : On omote side, there is a kuri-kara-ryû "倶利伽羅龍", on ura side, there are Bonji Sanskrit characters.
Jigane : Itame-hada. Mokume mixed.
Hamon : Gunome-midare. Ashis appeared. Nie attached well. Kin-sujis and sunagashis appeared.
Boushi : It runs in midare-komi. It becomes kaen flame shape.

[ Highlight ]
Mihaba is very wide and massive hira-zurukuri form. On jinie attached itame-hada, it has been tempered gunome-midare pattern hamon in nie-deki. It is so attractive engravings kuri-kara-ryû dragon and Sanskrit. As a signature Ikkansai Taikei "一貫斎大慶", the sword was created by SHIMIZU Seiya, who also had a signature Taikei "泰慶". There is an engraving signature na-mu dai-nichi-nyu-rai na-mu myo-hô ren-ge-kyo "南無大日如来 南無妙法蓮華経". It was created in the first year of Heisei, so that this sword might be dedicated to the new era. Swordsmith Taikei "泰慶" was born on 16th August Shôwa 22(1947). He was a swordsmith in Niigata prefecture. He became a pupil of SAKAI Ikkansai Shigemasa in Shôwa 44(1969), and learned swords creation and engravings. He became independent in Shôwa 51(1976). Actually proofed by this sword, he was good at nie attached ji-ba and dynamic wide width sword form.

[ Conditions ] Close to kissaki, there is an extremely tiny dot ha-kobore tip. Saya-zure scratches, around monouchi on omote, ura side and engraving of ura side.

[ Attachments ] Habaki (suaka-ji, gold foiled, single), shirasaya and bag of shirasaya.

[
Item number
] A090618 [
Price
]
JPY 380.000
(shipping and insurance fee are not included)