Tanto, Shirasaya

[ Signature ] omote : Sadayoshi "貞義" ura : Shôwa kanoto-tori-doshi haru "昭和辛酉年春"
[
Size
]
Blade length 26,4cm (8 sun 7 bu 1 rin), sori 0cm ( - ), moto-haba 2,67cm, moto-kasane 0,53cm, mekugi-ana(hole) 1, blade weight 156,5g
, shirasaya length 40cm
[ Period (time of creation) ] Shôwa 56(1981)
[ Province / prefecture ] Shizuoka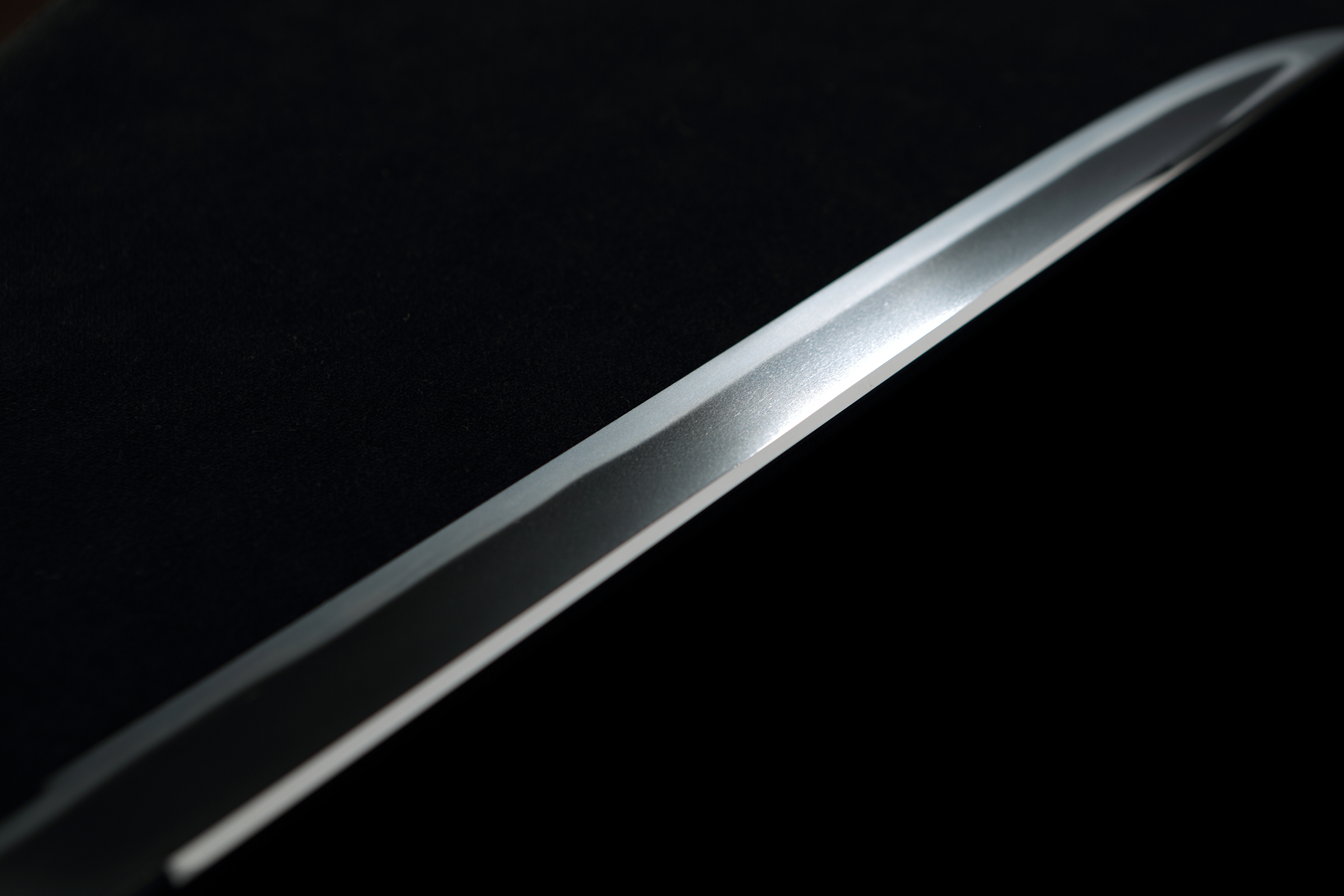 [ Feature ]
Form : Hira-zukuri. Mitsu-mune. Motohaba is relatively wide. Sakihaba becomes narrower. Fukura shows kare-gokoro state.
Nakago : Ubu. Yasurimes are suji-kais and keshô. Saki is shallow kuri-jiri. One hole.
Jigane : Itame-hada well grained. Jinie attached. Chikei appeared.
Hamon : Sugu-ha tone. Below half, ko-midare mixed. Sunagashi appeared. Nie attached well.
Boushi : It shows togari-gokoro state komaru. It turns relatively long.

Swordsmith Sadayoshi has secular name ENOMOTO Eishichirô. He learned swords creation under his father Sadayoshi. He became independent in Shôwa 54(1979). He seeked the Sôshû-den since then at Mishima city, Shizuoka prefecture.

Referenced material : Tô-ken Biyutsu "刀剣美術" August issue, vol. 475. Nihon Bijyutsu Tôken Hozon Kyôka,i Heisei 8(1996)

[ Highlight ] It seemed that swordsmith followed Sô-shû den. The sword has furisode-nakago, differences between moto-haba and saki-haba. A little fukura-kareru state, elegant form are so specific. Careful and elaborate jigane forging shinning brightly. Sincere made sword two years after Sadayoshi's independence, which learning new things from the past even earlier than the completion done by Masamune.

[ Conditions ] Excellent.

[ Attachments ] Habaki (suaka-ji, gold foiled, double), shirasaya and bag of shirasaya.


[
Item number
] A070218 [
Price
]
JPY 220.000
(shipping and insurance fee are not included)