Wakizashi, Shirasaya

[ Signature ] omote : "越中守正俊" ura : -

[
Size
]
Blade length 57.3cm (1 shaku 8 sun 9 bu 1 rin), sori 1.4cm (4 bu 6 rin), moto-haba 3.01cm, moto-kasane 0.66cm, saki-haba 2.30 cm, saki-kasane 0.49 cm, mekugi-ana(hole) 1, blade weight 607.5g
, shirasaya length 81.5cm
[ Period ] Edo, beginning of, around Keichô
[ Province ] Yamashiro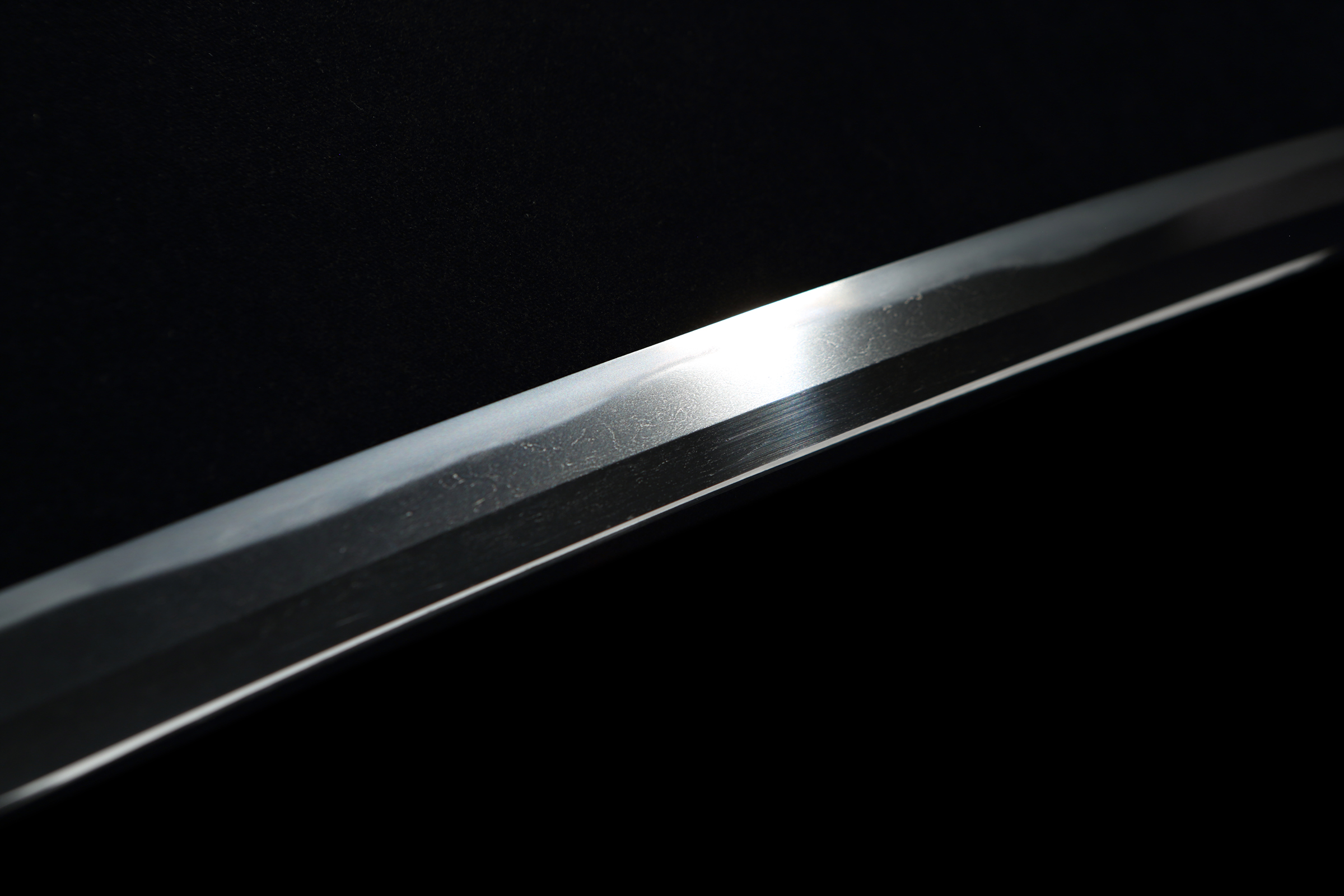 [ Feature ]
Form : Shinogi-zukuri. Iori-mune. Mihaba is relatively wide. Kasane is ordinal. There are not so differences between moto-haba and saki-haba. Clean sori attached. Ô-kissaki.
Nakago : Ubu. Saki is shallow kuri-jiri. Yasurimes are suji-kais. One hole.
Jigane : Itame-hada well grained. Part by part, it shows changes, some forging surface appeared. Jinie attached. Fine chikei appeared.
Hamon : Ko-notare. Ko-gunomes and togari-bas mixed. Nie attached well. Tobiyakis, sunagashis and yu-bashiri appeared.
Boushi : It runs with a little notare. Saki turns in a little pointy with haki-kake.

[ Highlight ]
Ecchû-no-kami Masatoshi was a fourth son of Seki Kanemichi. He had his elder brothers, Iga-no-kami Kinmichi, Rai Kinmichi and Tanba-no-kami Yoshimichi. They moved from Mino to Kyô (Kyôto) during Eiroku "永禄" (1558-1570), and flourished so much. In this Mishina school, he was known as most wide range and most high technique swordsmith. In Keichô "慶長" 2(1597), he was appointed to Ecchû-no-kami. Nice form, ô-kissaki long size naga-wakizashi. Fine chikei shape a little forging surface appeared. Bright nie based notare-ba is so splendid. A sword with full of spirit.

[ Conditions ]
There are tiny pale rusts and scratches but it can be appreciated and preserved as it is.

[
Attachments
]
Habaki (suakaji, gold foiled, single), shirasaya, bag of shirasaya and
NBTHK Tokubetsu hozon paper ( issued on 19th March Heisei 22(2010))

[
Item number
] A051218 [
Price
]
JPY 850,000
(shipping and insurance fee are not included)