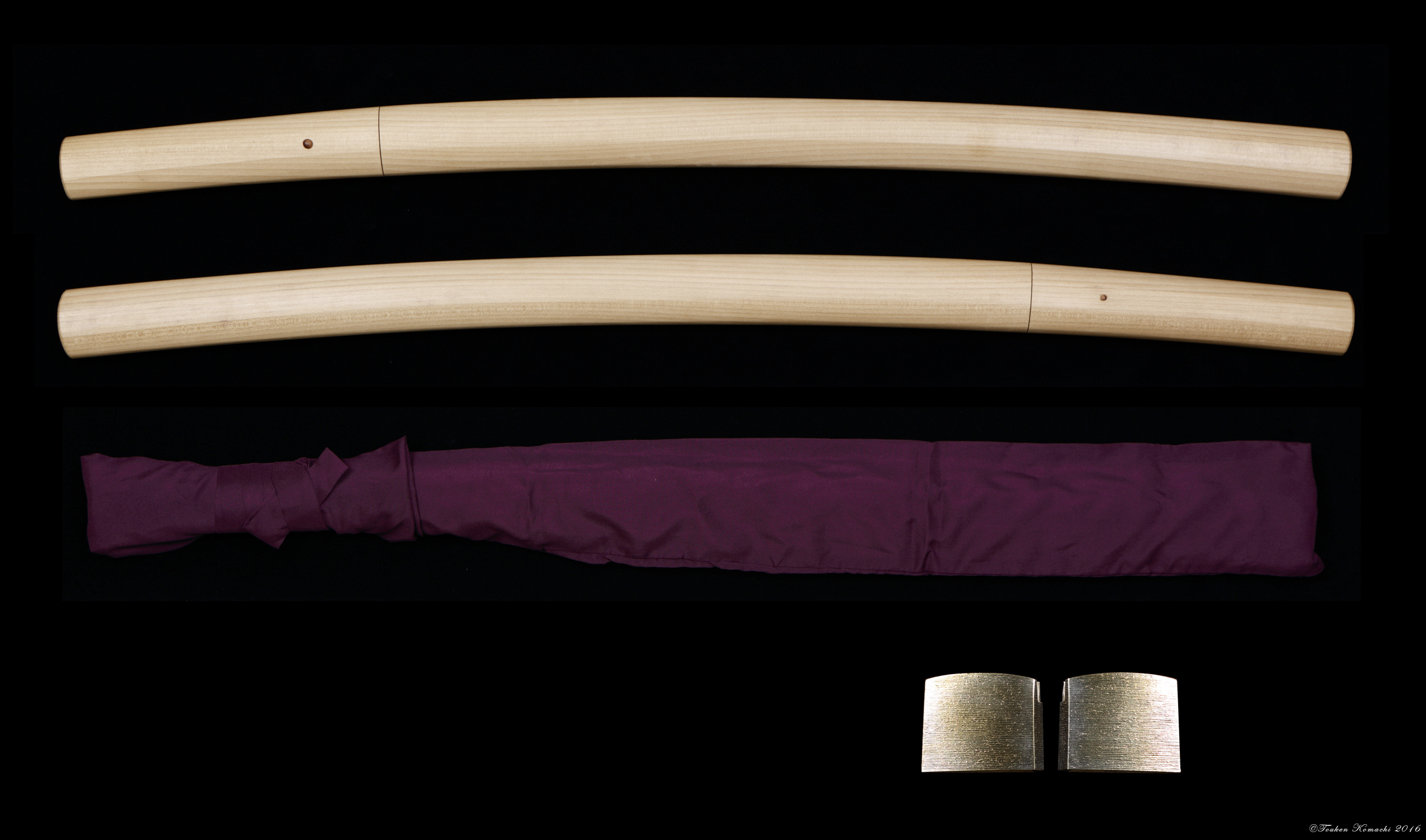 Wakizashi, Shirasaya
Hizen no kuni ju Masatsugu

[ Signature ] Mei (omote) Hizen no kuni ju Masatsugu
[ Size ]
B
lade length 52,4cm (1 shaku 7 sun 2 bu 9 rin), sori 0.9cm( 2 bu 9 rin), moto-haba 2,86cm, moto-kasane 0,66cm, saki-haba 1,95cm, saki-kasane 0,45cm, mekugi-ana(hole) 1, blade weight 485.,g
, shirasaya length 75cm
[ Period ] Edo, first half of.
[ Province ] Hizen
[ Feature ]
Form : Shinogi-zukuri, iori-mune. Mihaba and kasane are both ordinal. Shallow sori attached. Chukissaki form.
Nakago : There is a little suri-age. Machi-okuri around 1cm. Yasurimes are kiri. Saki is kuri-jiri in very little shallow. Two holes.
Jigane : Ko-itame-hada. Jinie attached. Chikei appeared.
Hamon : In nie-deki. Gunome-midares, ashis, yos, sunagashis and yubashirs are appeared. Nie attached.
Boushi : It runs hakikake. It turns in komaru.

Hizen koku Masatsugu was student of first generation Kawachi Daijo Masahiro. He called himself Yozaemon. He made his signature Hirotsugu and Masatada as well. He created swords at Nagasaki around Kaunbun through Enpo(1661-1680).

[ Highlight ] The remains of his swords is so few among lot of Hizen swordsmith that the sword become very precious primary source to know his style. There is a variety of movement in ha, swaying nie-ashis working is pleasant for eyes.

[ Conditions ] Excellent. The sword can be appreciated and preserved as it is.

[ Attachments ]
Gold folied silver single habaki, shirasaya, bag of shirasaya,
Kurashiki swords museum certificate paper (issued on 17th october, Heisei 27 (2015))
and
NBTHK Hozon certificate paper (issued on 21st July Heisei 28 (2016))

[ Item number ]
A051116
[ Price ]
JPY 210.000
(shipping and insurance fees are not included in the price)