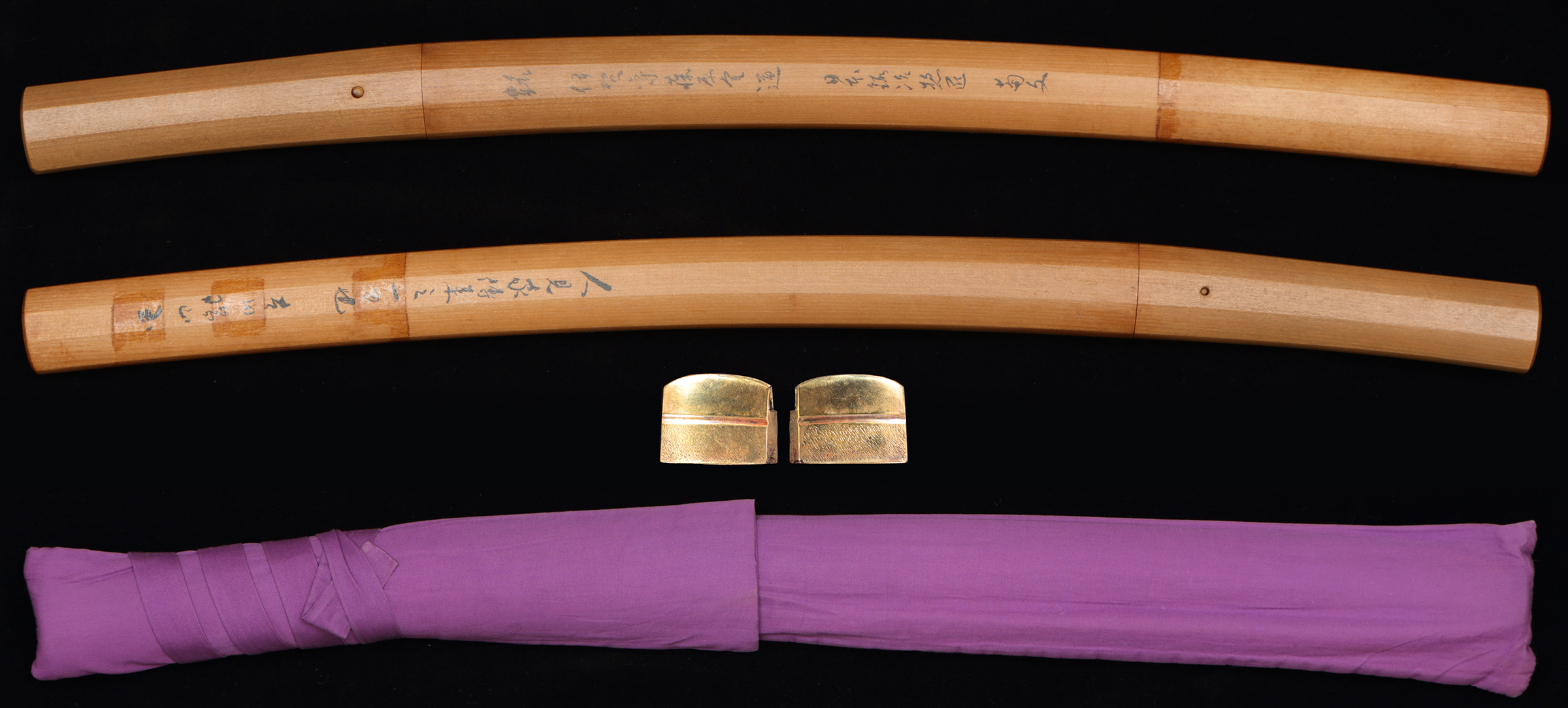 Wakizashi, Shirasaya

Iga no kami Kinmichi, 2nd generation

[ Signature ] omote : (kiku-mon "菊紋")Iga-no-kami Fujiwara Kinmichi Nihon kaji sô-shô "伊賀守藤原金道 日本鍛冶惣匠"  ura : -

[
Size
]
Blade length 46,8cm (1 shaku 5 sun 4 bu 4 rin), sori 1,0cm (3 bu 3 rin), moto-haba 3,31cm, moto-kasane 0,71cm, saki-haba 2,34 cm, saki-kasane 0,40 cm, mekugi-ana(hole) 1, blade weight 539,5g
, shirasaya length 68cm
[ Period ] Edo, first half of
[ Province ] Yamashiro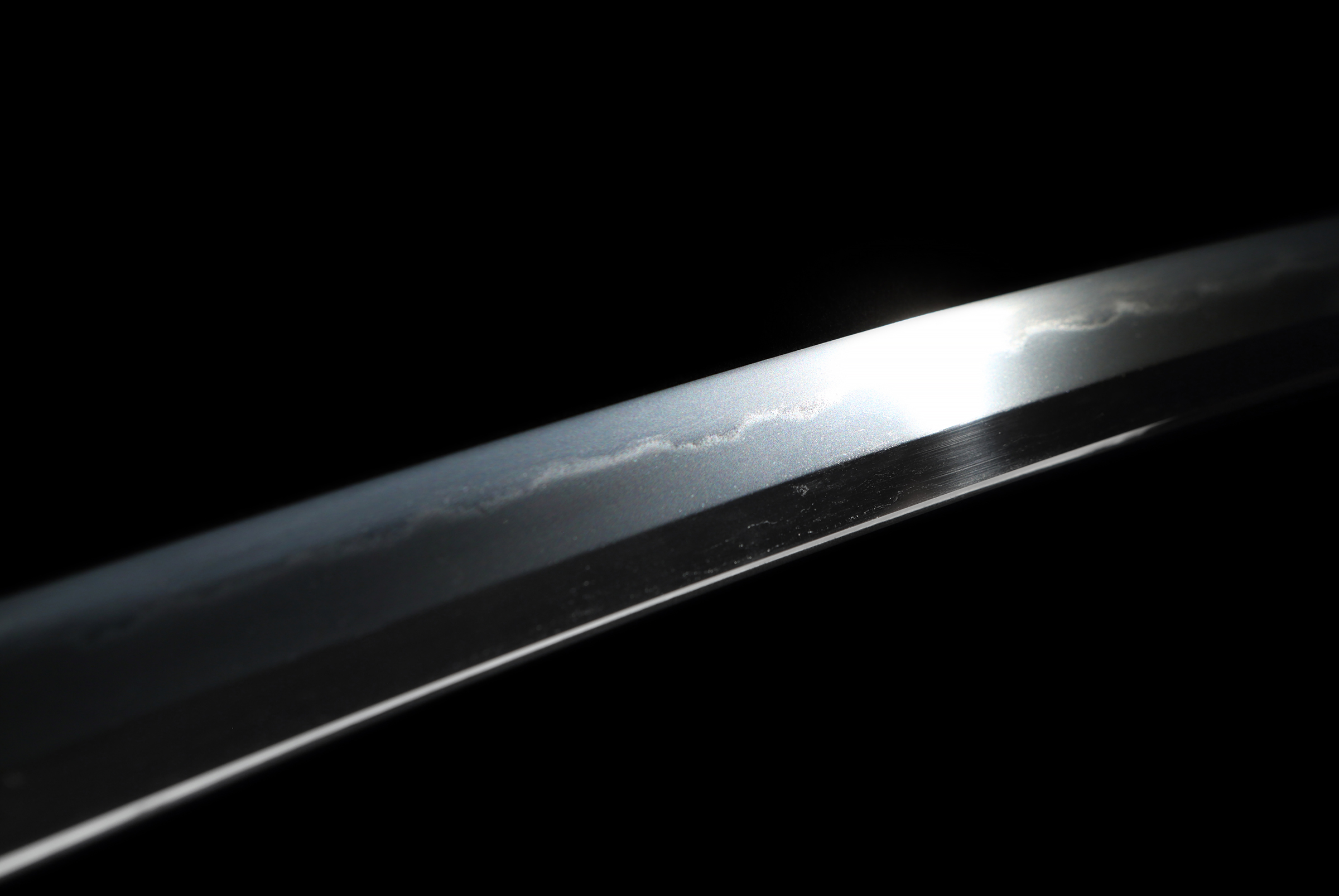 [ Feature ]
Form : Shinogi-zukuri. Iori-mune. Mihaba is wide. Kasane is relatively thick. Shallow sori attached. Chû-kissaki form.
Nakago : Ubu. Yasurimes are suji-kais. Saki is ken-gyô. One hole.
Jigane : Itame-hada. Masame mixed. Fine jinie attached. It has shirake-gokoro.
Hamon : Ko-notare. Gunomes and togari-"ba"s mixed. Nie attached well. Kin-sujis and sunagashi appeared.
Boushi : It runs in sugu then in shallow notare. It turns in komaru with tsuki-age-gokoro.

[ Highlight ] First generation Iga-no-kami Kinmichi moved from Mino province to Yamashiro province with his father Kanemichi and his three brothers, Rai Kinmichi, Tanba-no-kami Yoshimichi and Ecchû-no-kami Masatoshi. Their school Mishina flourished so much. In Keichô 19(1614), Iga-no-kami Kinmichi family received order creating 1,000 swords in 100 days by TOKUGAWA Ieyasu just before Ô-saka fuyu-no-jin winter battle with Toyotomi in Ô-saka. They have accomplished Ieyasu's order then honored as Nihon-kaji-sô-shô "日本鍛冶惣匠" with permission of Imperial court, which was asked by TOKUGAWA Ieyasu. Needless to say, this achievement was done by assignments to other swordsmith not only in Miyako but in other provinces. They worked day and night in order to finish by the appointed day. This project was done during first generation Iga-no-kami Kinmichi was still in good health. However, it was from second generation, actually the signature Nihon-kaji-sô-shô "日本鍛冶惣匠" and kiku-mon on the nakago of blade. This sword was created by second generation Iga-no-kami Kimichi. Second generation Iga-no-kami Kinmichi was a child of first generation Iga-no-kami Kimichi. He was called MISHINA Kan-bei. He was accredited in Kanei 14(1637).

[ Conditions ] The last polishment has not been done recently. There is tiny rust on mune, however, it maintains healthy conditions both ji and ha.
[ Attachments ] Habaki (suaka-ji, gold foiled, single), shirasaya, bag of shirasaya and NBTHK Hozon paper ( issued on 4th February Heisei 28(2016))
[
Item number
] A050718 [
Price
]
JPY 280.000
(shipping and insurance fee are not included)