Katana, Shirasaya, Koshirae

Bicchu no kami Tachibana Yasuhiro

[ Signature ] omote : "備中守橘康廣" ura : kiku-mon (菊紋)

[
Size
]
Blade length 71.9cm (2 shaku 3 sun 7 bu 2 rin), sori 1.7cm (5 bu 6 rin), moto-haba 3.12cm, moto-kasane 0.65cm, saki-haba 2.17 cm, saki-kasane 0.42 cm, mekugi-ana(hole) 1, blade weight 687.5g
, shirasaya length 99cm
[ Period ] Edo, middle of. Around Kanbun "寛文"
[ Province ] Settsu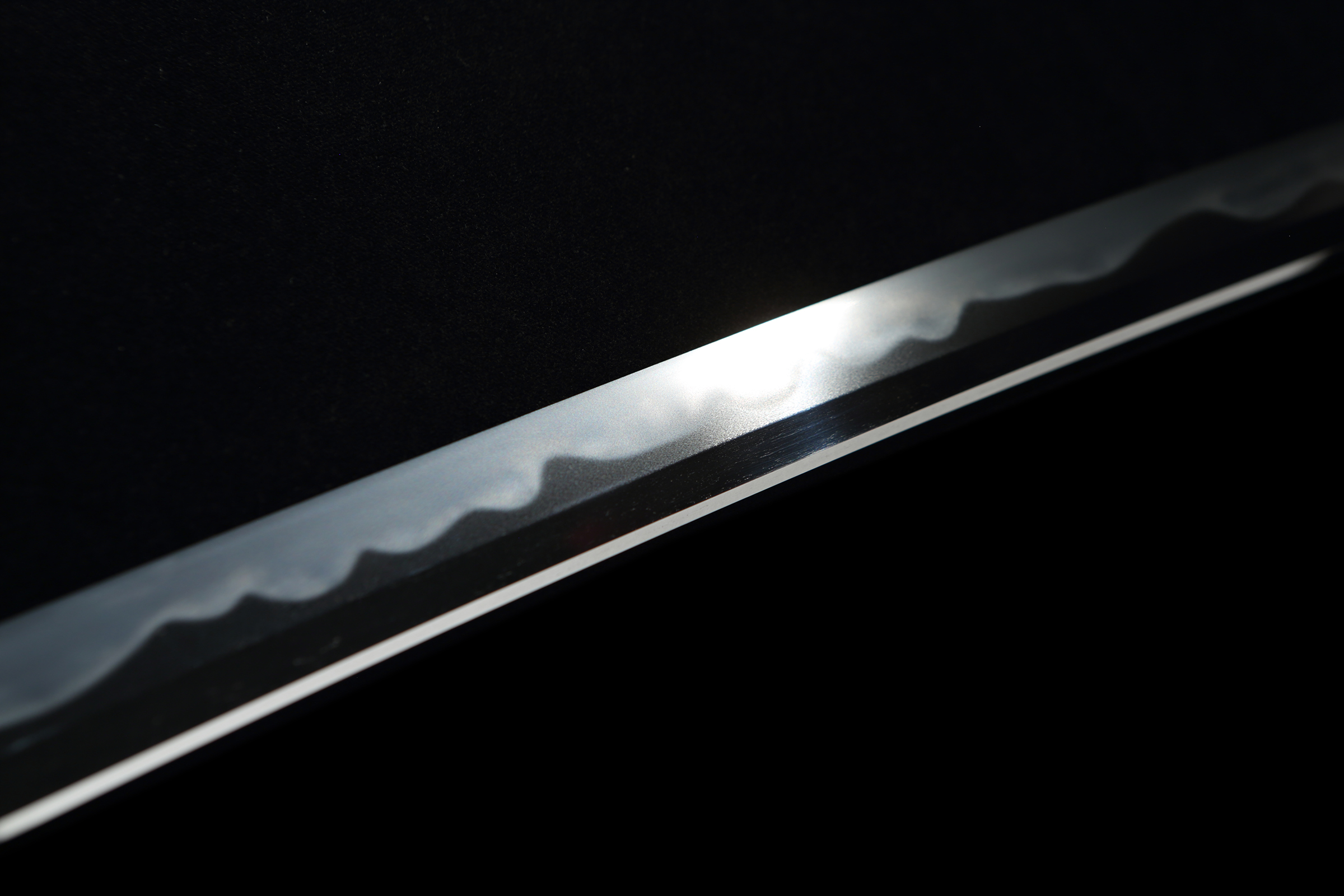 [ Feature ]
Form : Shinogi-zukuri. Iori-mune. Both mihaba and kasane are ordinal. There are differences between moto-haba and saki-haba. Clear sori attached. Chû-kissaki extended form.
Nakago : Ubu. Saki is ken-gyô. Yasurimes are ô-suji-kai and keshô. One hole.
Jigane : Ko-itame-hada well grained. Jinie attached. Chikei appeared.
Hamon : Gunome-midare. Ô-gunome and chô-ji-bas-like mixed. Ashis and deep nioi appeared. Nie attached well. Sunagashis appeared.
Boushi : It runs in sugu and ko-maru. Saki is haki-kake. It turns relatively long.

Kuro-ro-iro-nuri saya uchi-gatana koshirae ; fuchi-gashira : design of pine and clane (shakudô migaki-ji) ; menuki : design of spiritual beast and tortoise (shakudô, katachi-bori, gold iroe)
黒蝋色塗鞘打刀拵 : 松鶴図縁頭(赤銅磨地)、瑞獣霊亀図目貫(赤銅容彫金色絵)


[ Highlight ]
Yasuhiro was called Tomita Gorô Zaemon. He was a representing swordsmith of Kishû Sekidô school. Later, he moved to Ô-saka. He became central position in Ô-saka Sekido school. This sword was created after he was appointed as Bicchû no kami. It is different from his ordinal swords, chô-ji hamon in nioi-deki but nie-deki. Dynamic and wonderful sword. For back side, there is chrysanthemum crest kiku-mon. As the time signatures, there are "於紀州康廣", "紀伊国康広", "紀伊国當一康広", "備中守橘康広", etc. This sword has high quality koshirae with lucky design metal fittings (e.g. design of pine and crane fuchigashira, design of spiritual turtoise menuki), which are created by top class craftman. No tsuba attached. You can choose your preferable tsuba and make it complete and appreciate.

[ Conditions ] Both blade and koshirae are excellent.

[ Attachments ] Habaki (suaka-ji, gold foiled, single), shirasaya, bag of shirasaya, koshirae (no tsuba attached), bag of koshirae and NBTHK Tokubetsu hozon paper( issued on 19th March Heisei 22(2012))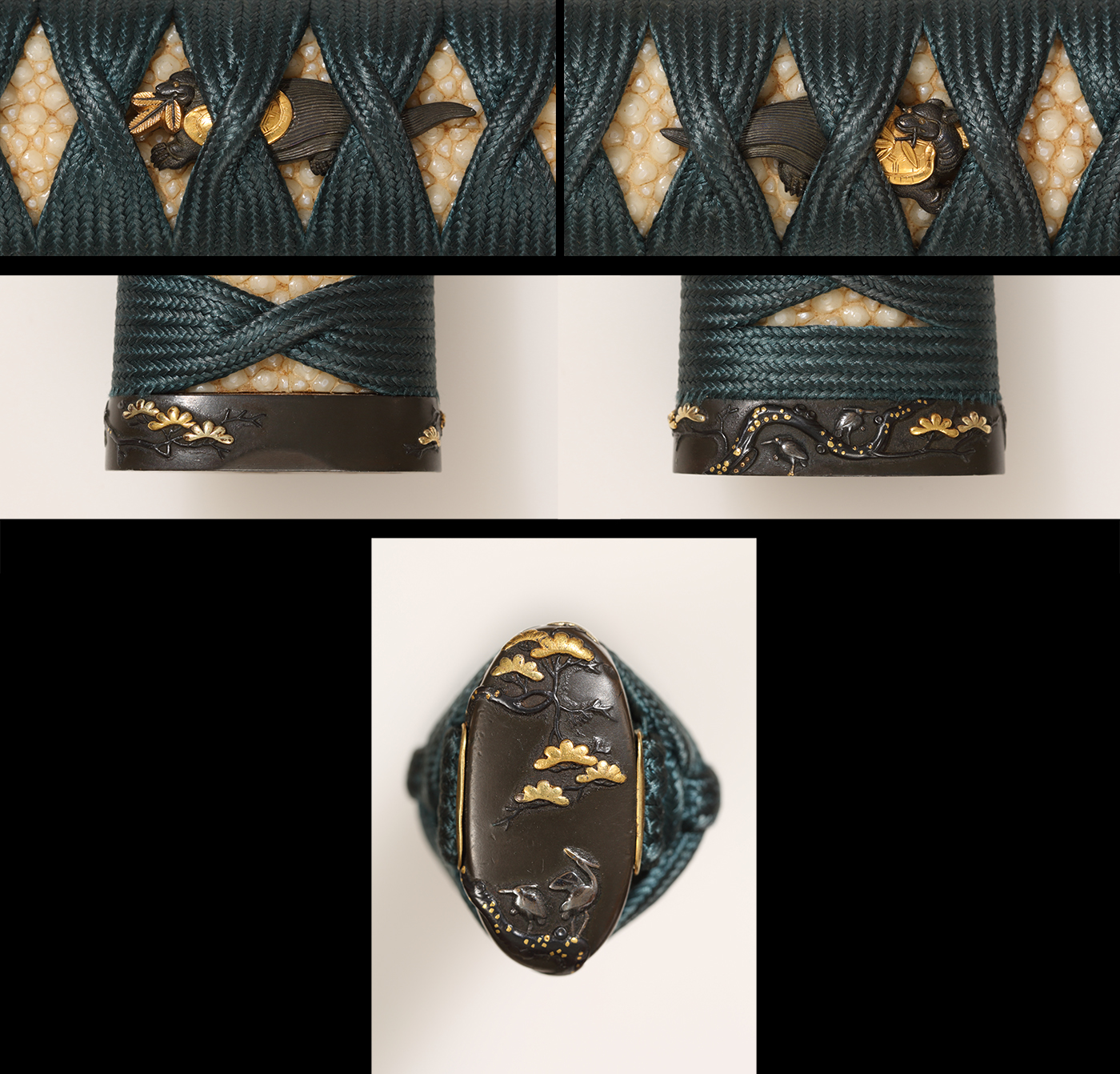 [
Item number
] A041218 [
Price
]
JPY 1,600,000
(shipping and insurance fee are not included)