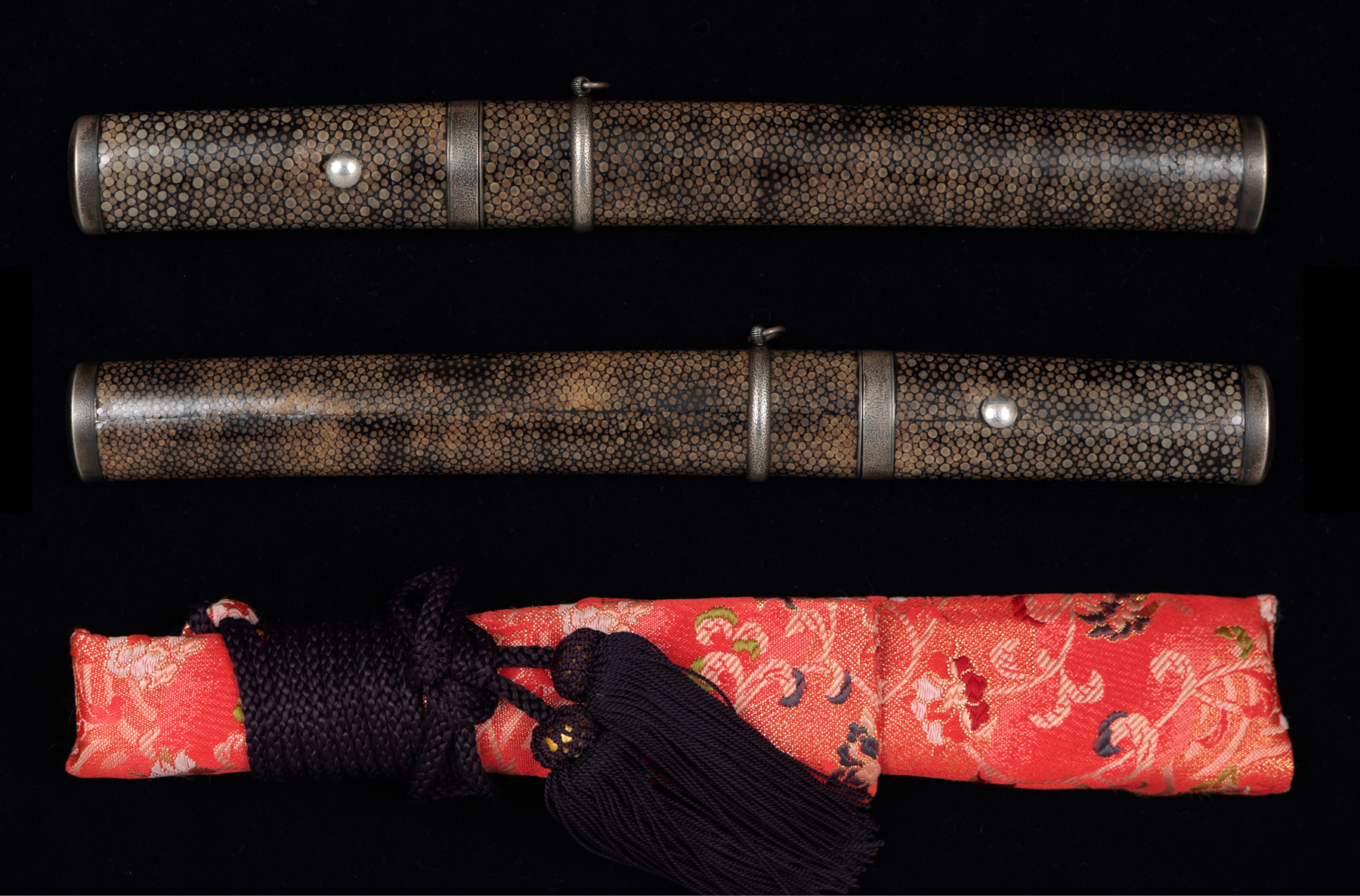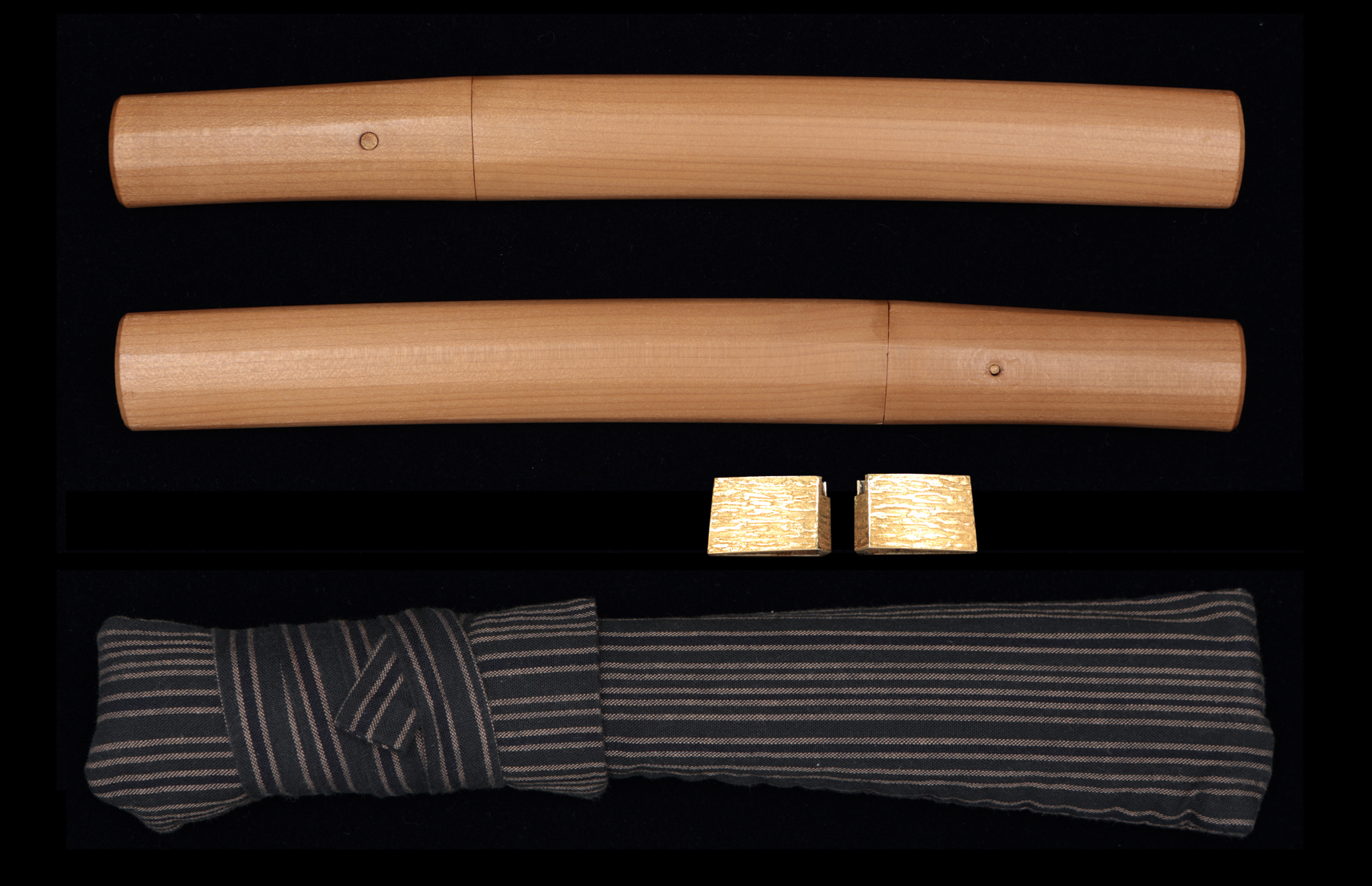 Tanto, Shirasaya, Koshirae

[ Signature ] omote : "備前国住長船宗光" ura : "明應九年二月日"

[
Size
]
Blade length 16,2cm (5 sun 3 bu 4 rin), uchi-zori, moto-haba 1,94cm, moto-kasane 0,61cm, mekugi-ana(holes) 2, blade weight 88g
, shirasaya length 30,3cm, koshirae length 27,8cm
[ Period ] Muromachi "明應"(Mei-ô)9 (1500)
[ Province ] Bizen
[ Feature ]
Form : Hira-zukuri. Iori-mune. Uchi-zori attached at saki. Small size tantô form.
Nakago : Ubu. Yasurimes are shallow katte-sagari. Saki is kuri-jiri. Two holes.
Jigane : Itame-hada well grained. Moku-mes and nagare-gokoro-hada mixed. Jinies attached.
Hamon : Hoso-sugu-ha. Nie attached fine. Kin-sens appeared and ha-buchi has hotsure along with ha-hada.
Boushi : It turns in komaru.

"黒漆塗研出鮫呑口拵"(Kuro(black)-urushi(lacquer)-nuri togi-dashi-zame nomi-kuchi koshirae) : "銀石目地縁"(gin(silver) ishi-me-ji fuchi), "銀石目地頭"(gin(silver) ishi-me-ji kashira), "銀石目地鐺"(gin(silver) ishi-me-ji kojiri), "銀石目地環付責金"(gin(silver) ishi-me-ji kan-tsuki seme-gane), tsunagi, "素銅地金鍍金一重ハバキ"(su-aka-ji kin(gold) to-kin(gilding) hito-e(single) habaki)

First generation Munemitsu was condidered as a pupil or younger brother of Osafune Nagamitsu. Up to second half of Muromachi period, family name was succeeded generation by generation. This sword was created by Sa-kyô-shin Mune-mitsu who worked during Bun-mei through Kyô-roku. There was a sword with signature "備前国住長船祐光次男左京進宗光作 文明九年二月日"(Bi-zen-(no)-kuni-jyû Osa-fune Suke-mitsu ji-nan(second son) sa-kyô-shin Mune-mitsu tsukuru(create)), so that one could consider he was a son of Roku-rô-za-e-mon Suke-mitsu. His eleder brother was U-kyô-no-suke Katsu-mitsu. Also co-created swords exist. It was said that he taught creating the swords for AKA-MATSU Masa-nori. He also created the swords at Bi-chû, Hari-ma, Kyô(Miyako) or Ô-mi.

[ Conditions ] There is 2 mm long kiri-komi-kizu at edge of hira-ji-mune, middle of omote side. Koshirae metal fitting of kashira gets a little loose. Rest, it maintains fine conditions.

[ Attachments ] Habaki (silver plate, gold colored, single), shirasaya, bag of shirasaya, koshirae, bag of shirasaya and NBTHK Hozon paper( issued on 27th January Heisei 24)

[
Item number
] A040117 [
Price
]
JPY 380.000
(shipping and insurance fee are not included)