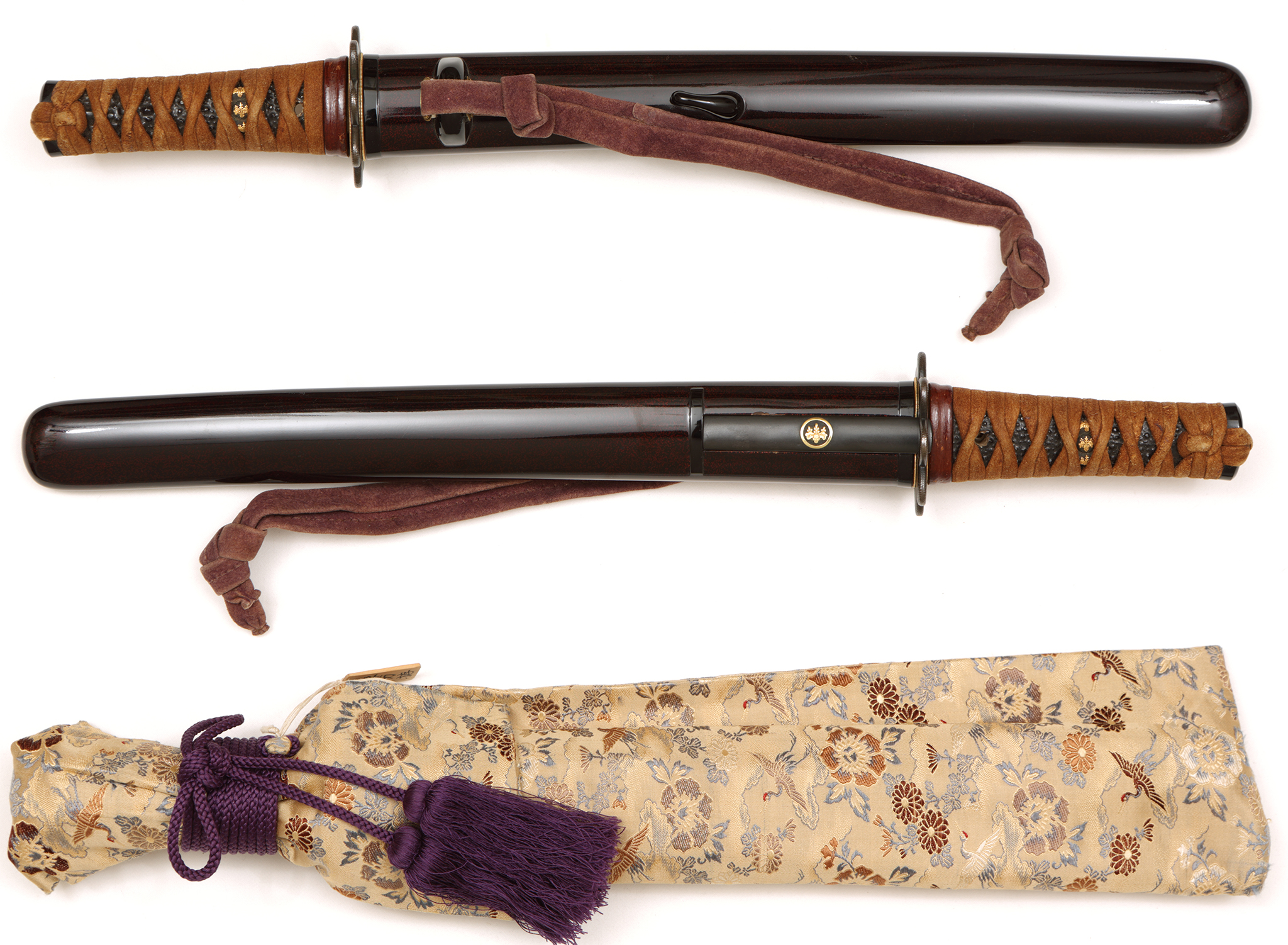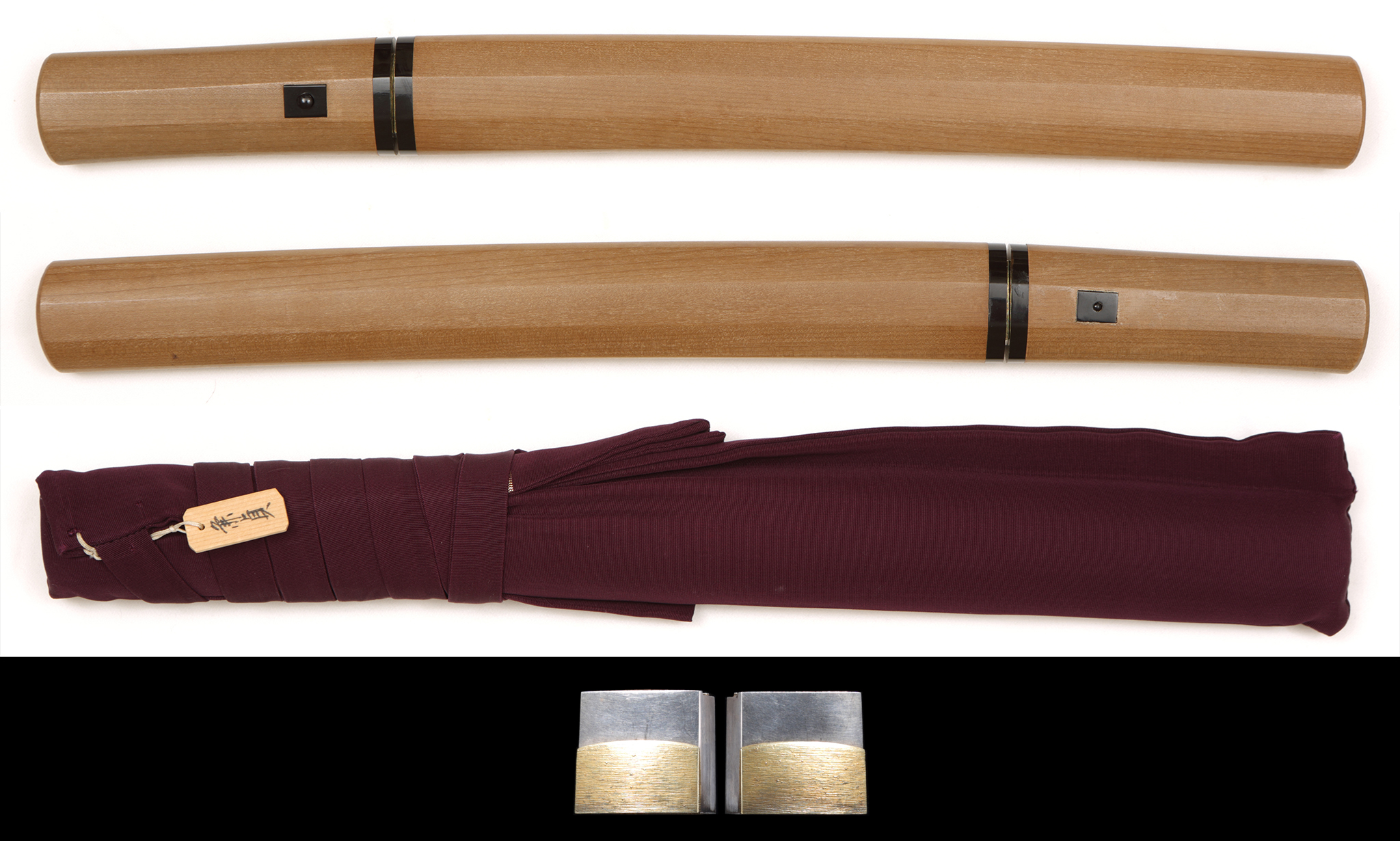 Tantô, Shirasaya, Koshirae

[ Signature ] omote : Kanesada "兼貞" ura : -

[
Size
]
Blade length 25.30cm ( 8 sun 3 bu 5 rin), sori 0cm, moto-haba 2.40cm, moto-kasane 0.73cm, mekugi-ana(holes) 2, blade weight 186.6g
, shirasaya length 40cm, koshirae length 46.5cm
[ Period ] Muromachi, middle of
[ Province ] Mino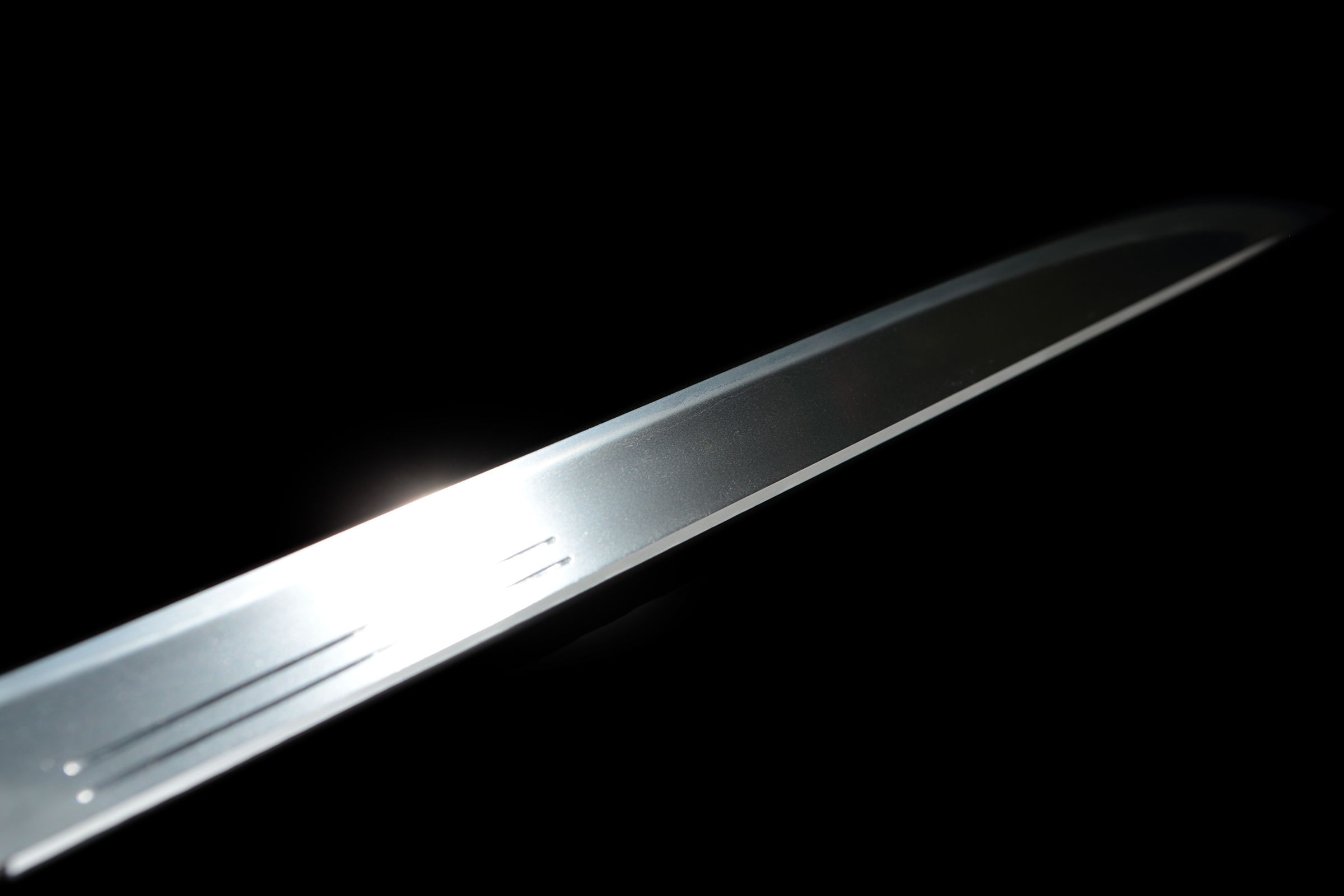 [ Feature ]
Form : Hira-zukuri. Iori-mune. Mihaba is ordinal. Kasane is relatively thcik. A little uchizori attached.
Nakago : Machi has been advanced around 3 sun(9.09cm). Saki is shallow kuri-jiri. Yasurimes are higaki. Two holes.
Horimono : (omote) gomabashis (ura) koshi-"hi" both side stop in round shape.
Jigane : Mokume, masa mixed. Jinie attached. Fine chikei appeared.
Hamon : Sugu-tone. Shallow notare, mura-nie attached. Sunagashis appeared.
Boushi : (omote) togari-gokoro (more or less pointy shape) (ura) it turns in small with jizô shape.

* Brown colored nuri-zaya chi-sa katana-koshirae : flower shaped amida-yasuri tsuba (suaka), design of pawlounia crest menuki, design of pawlounia in the cirlce kozuka (shaku-dô-ji, taka-bori, gold kin-iroe)
Cha-iro kawari-nui chisa-gatana-koshirae : hana-gata amida yasuri tsuba (suaka-ji), kiri-mon-chirashi-zu maru-ni kiri-mon-zu kozuka(shakudô-ji taka-bori kin-iroe)
茶色変り塗鞘小さ刀拵 : 花形阿弥陀鑢鐔(素銅地)、桐紋散図丸目貫(赤銅魚々子地高彫金色絵)、丸に桐紋図小柄(赤銅地高彫金色絵)

[ Highlight ]
Thick in its packaging or finish, sturdy and sharp form. Strong jigane, in mokume, masa tone mixed. Clear and bright sugu-ha tone hamon in nie. Well made fine tantô. Paulownia crest attached, nice taste chî-sa-gatana koshirae attached. Kanesada was a school of swordsmith, who were decendants of Daruma Masamitsu in Yamashiro province. They lived south-east of Seki from the middle to end of Muromachi period. There were some generations in same name.

[ Conditions ]
Excellent except there is small rust around machi of ura side, on hiraji.
[ Attachments ] Habaki (((uwagai) silver, double), gold colored), shirasaya, bag of shirasaya, koshirae, bag of koshirae and NBTHK Hozon paper (issued on 24th March Heisei 1 (1989))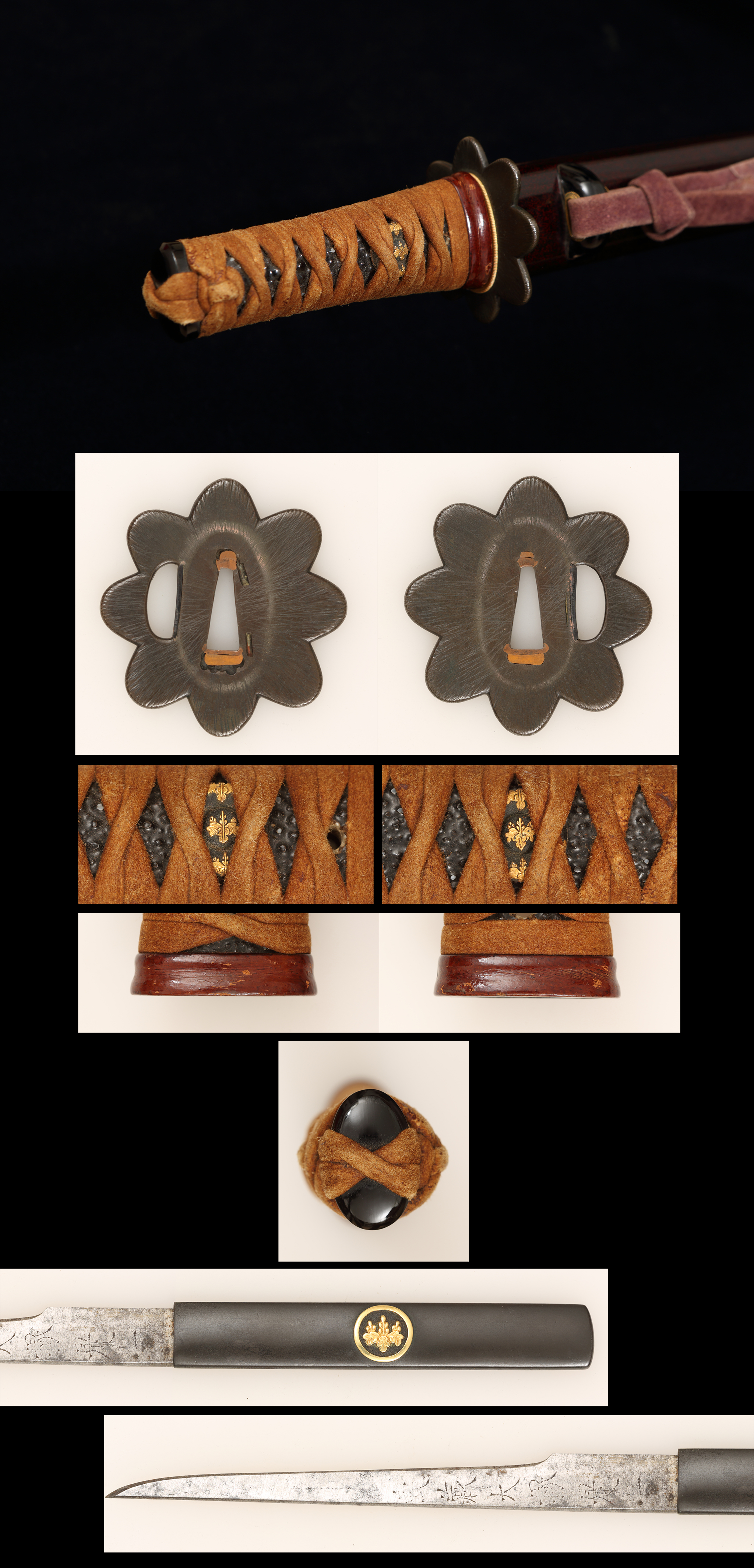 Kogatana signature
Musashi Daijô Korekazu
"武蔵大掾是一"
[
Item number
] A031118 [
Price
]
JPY 550,000
(shipping and insurance fee are not included)