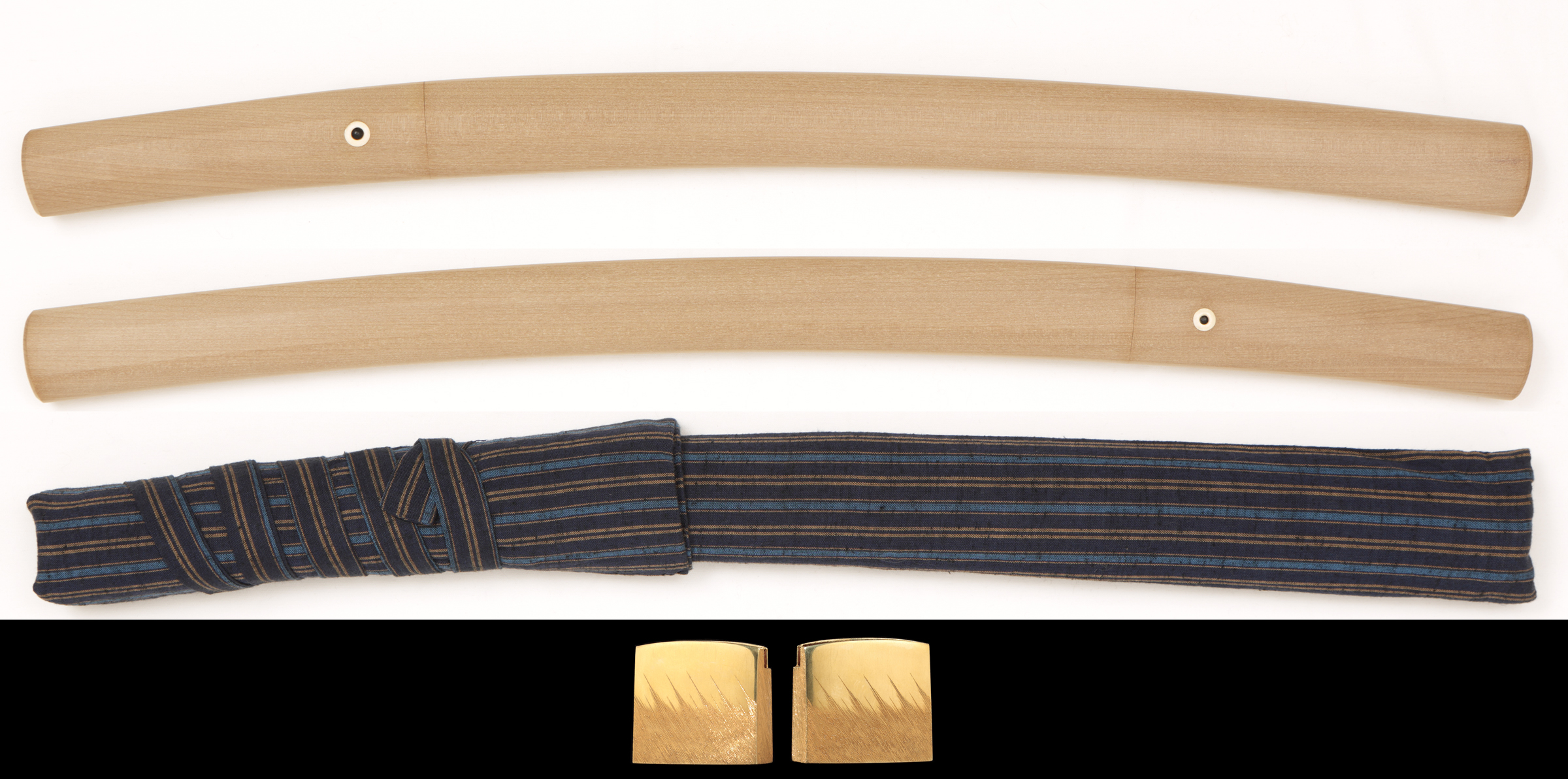 Wakizashi, Shirasaya

Kawachi no kami Kunisuke(1st generation)

[
Signature
] omote : Kawachi no kami Kunisuke
"河内守藤原國助"
 ura : -
[
Size
]
Blade length 40,0cm (1 shaku 3 sun 3 bu 3 rin), sori 1,0cm (3 bu 3 rin), moto-haba 3,06cm, moto-kasane 0,74cm, saki-haba 2,23 cm, saki-kasane 0,56 cm, mekugi-ana(hole) 1, blade weight 456g
, shirasaya length 61cm
[ Period ] Edo, beginning of
[ Province ] Settsu
[ Feature ]
Form : Shinogi-zukuri. Iori-mune. Mihaba is wide. Kasane is thick. Saki haba maitains most of its moto-haba. Sori attached. Chû-kissaki extended. A little reduced in size.
Nakago : Ubu. Yasurimes are ô-sujikais. Saki is kuri-jiri. One hole.
Jigane : Itame-hada well grained. Mokume and nagare-hada mixed. Jinie well attached. Fine chikei appeared.
Hamon : Shallow noatre, gunomes and hakikake mixed. Nies become part by part uneven. Sunagashi, yubashiri, tobi-yaki and mune-yaki appeared.
Boushi : It runs in sugu, stops in hakikake. Saki is in ô-maru manner It turns relatively deep.

First generation Kawachi-no-kami Kunisuke was born at Kameyama in Ise province. He was a pupil of HORIKAWA Kunihiro in his very last years. It was considered that actually he learned under Echigo-no-kami Kunitoshi. As same as first generation Izumi-no-kami Kunisada(parent Kunisada), he moved and lived in Ô-saka. He actively created swords as one of founder of Ô-saka shintô swordsmith.

Naginata and tantô with the signature "河内守藤原國助", "寛永三年二月日", even older signature with Kawachi-no-kami "河内守". Taking it into accout those facts, it was consdered that parent Kunisada "親国貞" who appointed as Izumi-no-kami in Genwa 9, they both were appointed before and after. He died on 30th May Sho-hô 4(1647). They continued till end of Edo period with several generations in same name.


Referenced materials : Kanzan tô-ken kouza vol.2, "寒山刀剣講座 第二巻", (Tôwa-kai), Shôwa 60(1985); Nihon-to meikan "日本刀銘鑑"ISHII Masakuni, supervised HONMA Kunzan (Yuzankaku publishing); 36th Jû-yô tô-ken zufu "第36回 重要刀剣図譜" (NBTHK), Heisei 2(1990).

[ Highlight ]
Heavy feeling at hand, strong and well packaged form ko-wakizashi. On itame-hada, mokume and nagare-hada mixed. Forging with more or less noticeable hada, yaki-haba is relatively wide. Nioi is in deep atmosphere. In general, sunagashis and nie-sujis appeared. Around mono-uchi, mune is tempered with small tobiyaki mixed. The sword shows typical feature of first generation Kunisuke. It is a sword with fine finish.

[ Highlight ]
Both polishment, shirasaya and habaki maitain excellent condtions.

[
Attachments
] Habaki (suaka-ji, gold foiled, single), shirasaya, bag of shirasaya and
NBTHK Tokubetsu Hozon paper (issued on 9th July Heisei 26(2014))

[
Item number
] A030717 [
Price
]
JPY 560.000
(shipping and insurance fee are not included)