Wakizashi, Shirasaya

Hizen no kuni Tadayoshi, 6th generation

[ Signature ] omote : Hizen-no-kuni Tadayoshi "肥前國忠吉" ura : Kansei jyû-nen nigatsu kichi-jitsu "寛政十年二月吉日"
[
Size
]
Blade length 41,70cm (1 shaku 3 sun 7 bu 6 rin), sori 0cm (n/a), moto-haba 2,66cm, moto-kasane 1,17cm, mekugi-ana(hole) 1, blade weight 515g
, shirasaya length 61,5cm
[ Period ] Edo, second half of. Kansei "寛政"10(1798)
[ Province ] Hizen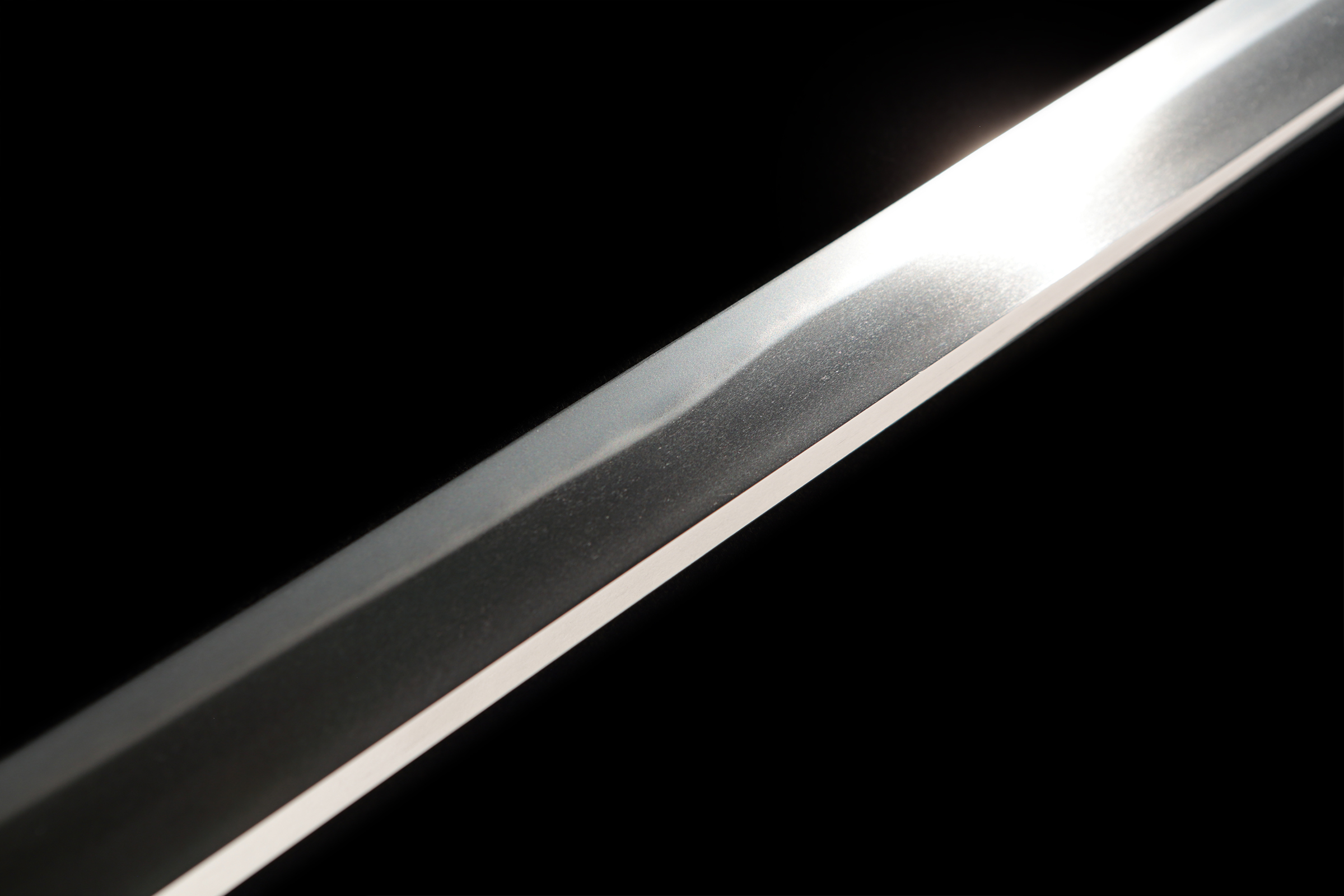 [ Feature ]
Form : Hira-zukuri. Mitsu-mune. Mihaba is ordinal. Kasane is extremely thick. No sori attached. Extended form.
Nakago : Ubu. Yasurimes are kiri. Saki is ili-yama-gata. One hole.
Jigane : Ko-itame-hada well grained. Jinie attached. It becomes ko-nuka-hada.
Hamon : Chû-sugu-ha. Shallow notare. Deep nioi, ko-ashis appeared. Ko-nie attached.
Boushi : It runs in sugu, then turns in komaru.

[ Highlight ] Sixth generation Tadayoshi was called Shin-zae-mon "新左衛門". In Gen-bun "元文" 1(1736), he was born as second son of fitth generation Ô-mi-no-kami Tadayoshi, when his father was 41 years old. His elder brother died earlier so that he succeeded the name Tadayoshi as sixth generation. On 24th June Kansei "寛政" 2(1790), he received an official rank Ô-mi-no-kami in his 55 years old. It seemed that, before succeeding Tadayoshi name, he supported his father. Sixth generation Tadayoshi got his official rank after 15 years later of his father deceased. Sixth generation Tadayoshi died on 28th December Bunka "文化" 12(1815), 80 years old. Due to historical back gournd, shortage of swords creation demands, his remaining swords are few. This sword is so precious, its singularity, extreme thickness, no sori ttached extended form and time stamps.
[ Conditions ] There are tiny hike and saya-zure scratches. The sword maintains healthy form. It can be appreciated and preserved as it is.
[ Attachments ] Habaki (suaka-ji, single), shirasaya, bag of shirasaya and NBTHK Tokubetsu Hozon paper (issued on 19th January Heisei 18(2008))

[
Item number
] A010816 [
Price
]
JPY 580.000
(shipping and insurance fee are not included)