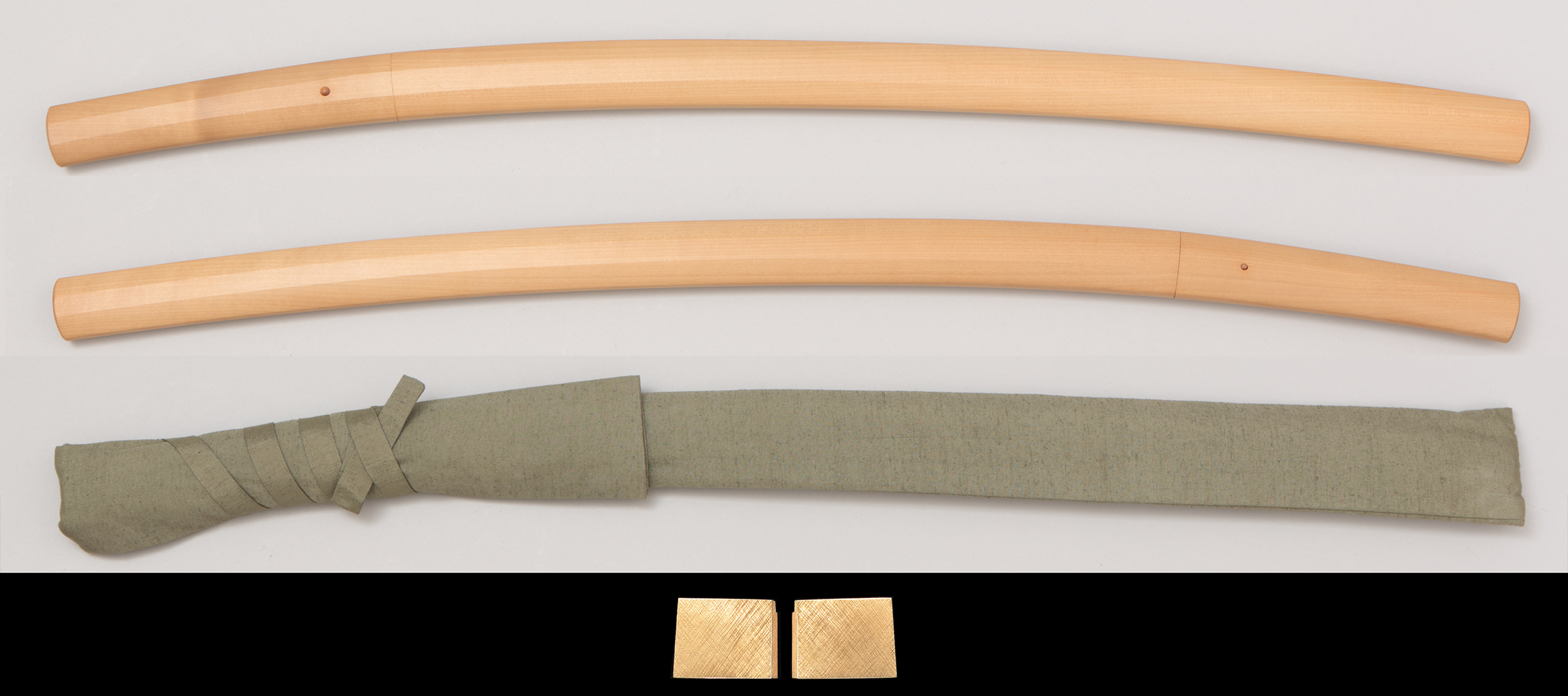 Ô-Wakizashi, Shirasaya, Koshirae

[ Signature ] omote : Kanefusa "兼房" ura : -

[
Size
]
Blade length 60,2cm (1 shaku 9 sun 8 bu 6 rin), sori 1,8cm (5 bu 9 rin), moto-haba 2,90cm, moto-kasane 0,54cm, saki-haba 1,91 cm, saki-kasane 0,32 cm, mekugi-ana(hole) 1, blade weight 491g
, shirasaya length 84,5cm, koshirae length 93cm
[ Period ] Muromachi, middle of
[ Province ] Mino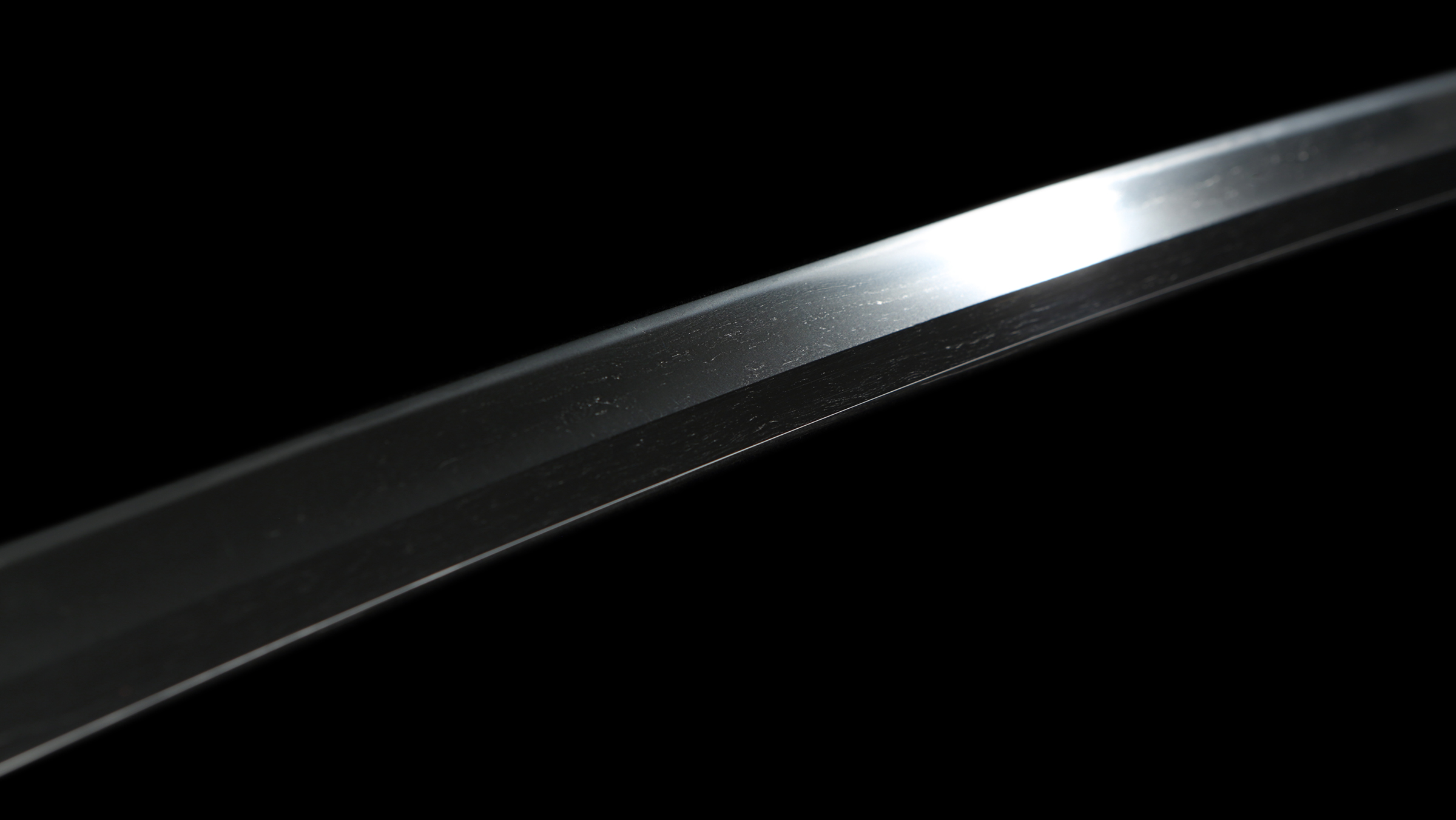 [ Feature ]
Form : Shinogi-zukuri. Iori-mune. Both mihaba and kasane are ordinal. Shinogi-suji is high. Relatively deep sori attached. Saki-zori attached. Chû-kissaki extended form.
Nakago : Ubu. Yasurimes are taka-no-"ha"s. Saki is shallow kuri-jiri. One hole.
Jigane : Itame-hada well grained. It changes into masa shape. Jinie attached. Shirake-gokoro appeared.
Hamon : Hoso-suguha. Shallow notare. Nioi-kuchi is distinctive. Ko-ashis appeared. Konie attached. Sunagashi appeared. Around mono-uchi, the tempered area width becoming a little wider. Below yokote, it becomes narrower again.
Boushi : It runs in shallow notare. Saki turns in hakikae with pointy togari-gokoro.

 Mino, Ko-mino metal fittings kanagu ô-wakizashi koshirae : 美濃・古美濃金具大脇差拵
 Autumn leaves Aki-kusa tsuba no signature"秋草図鐔 無銘(美濃)" : kuri-komi mokkô- shape "刳込木瓜形", shakudô nanako-ji (赤銅魚子地), suki-dashi fuka-bori "鋤出深彫", gold silver kin-gin iroe "金銀色絵", suki-nokoshi niku-bori kin-iro-e edge mimi 鋤残肉彫金色絵耳
 Kara-matsu-zu menuki "唐松図目貫 無銘(美濃)" : no signature (Mino) : Shakudô, katachi-bori, kin-gin-iroe "赤銅地", "容彫", "金銀色絵"
 Kikyô-karakusa fuchigashira "桔梗唐草図縁頭" no signature "無銘"(Ko-mino "古美濃") : shakudô-nanakoji "赤銅魚々子地", suki-dashi fuka-bori "鋤出深彫", kin-gin ro-zôgan inlay iroe "金銀露象嵌色絵"

[ Highlight ] Kanefusa was a swordsmith of Sue-Seki. He was a swordsmith who worked actively from the middle of Muromachi period through Shin-tô era. There are some generations in same name. As their techniques, there are gunome-chô-ji-midare called Kenbô midare "兼房乱れ", notare such as this sword, or Sanbon-sugi. It was known that they had wide range of swords creation. This sword has well grained, nagare-masa forged kitae-hada surface. More or less white jigane shows tight nioi-kuchi. Ko-nie attached hoso-suguha tempered.
Deep sori attached shape. Almost same long as katana ô-wakizashi. Recently made, ensemble metal fittings of Mino equipped magnificent ô-wakizashi-koshirae attached.

[ Conditions ] Blade condition is excellent. There is kitae-ware natural foging crack on shinogi-ji, close to yokote of omote side. Koshirae has been made recently. It shows perfect conditions.
[
Attachments
] Habaki (suaka-ji, gold foiled, single), shirasaya, bag of shirasaya, koshirae, bag of koshirae.
Ô-wakizashi : NBTHK Tokubetsu hozon paper ( issued on 5th Feb. Heisei 27(2015), tsuba
: NBTHK Tokubetsu tô-sô-gu paper ( issued on 2nd May Heisei 26(2014)),
menuki : NBTHK Hozon tô-sô-gu paper ( issued on 27th Apr. Heisei 23(2011))
,
fuchi-gashira : NBTHK Hozon tô-sô-gu paper ( issued on 8th Nov. Heisei 28(2016))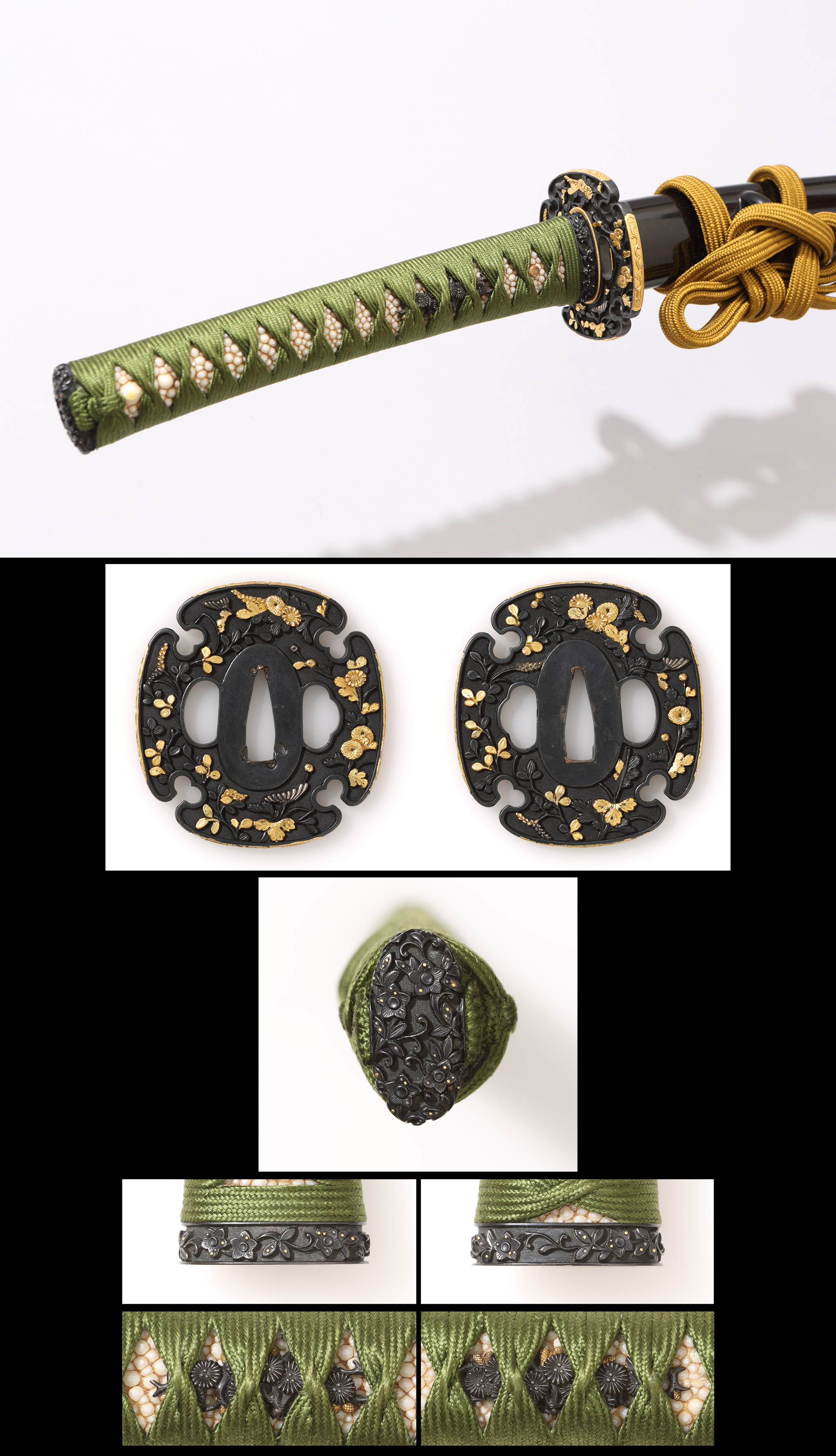 [
Item number
] A020918 [
Price
]
JPY 1.000.000
(shipping and insurance fee are not included)