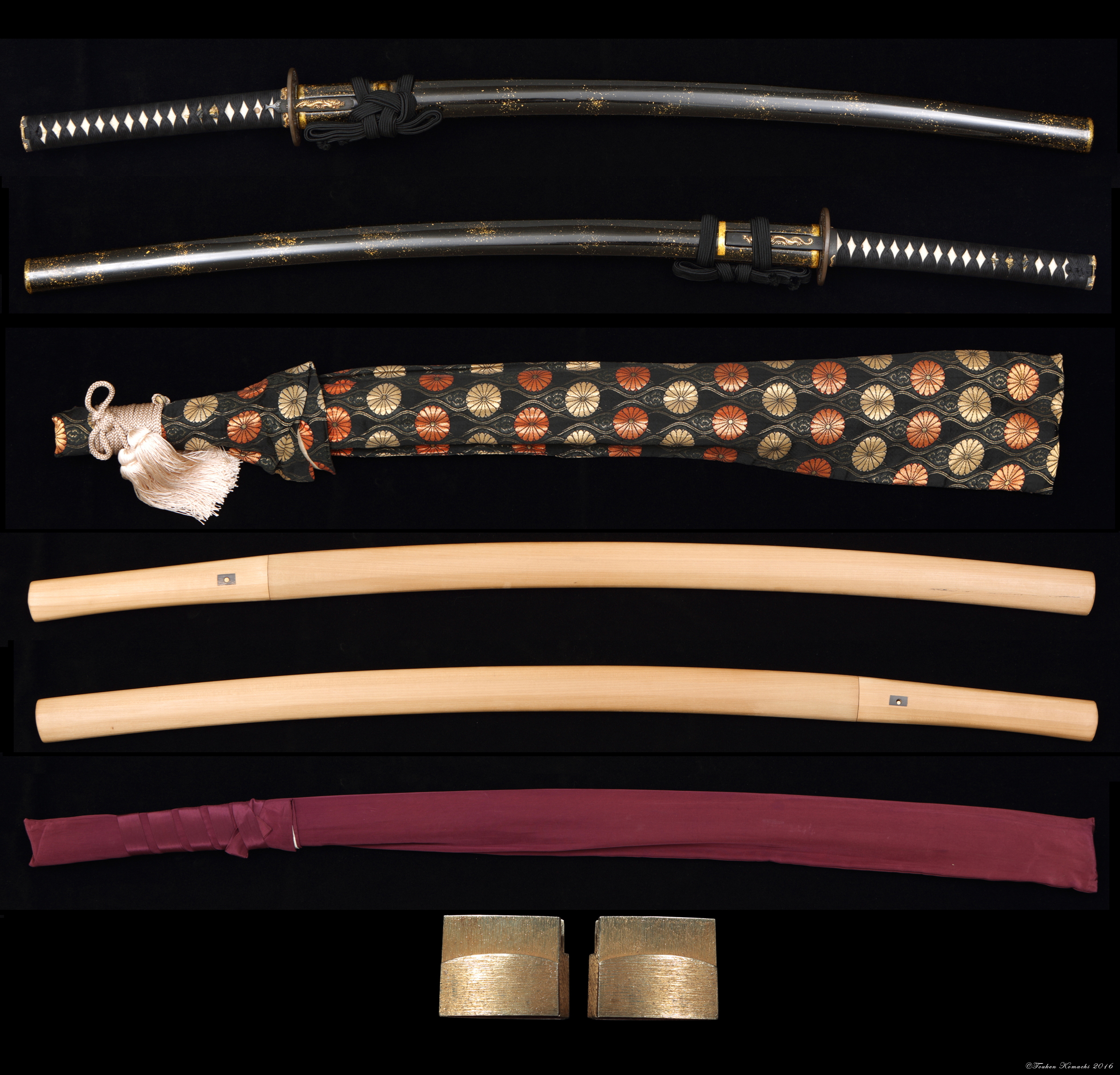 Katana, Shirasaya, Koshirae

Chikuzen jû Minamoto Nobukuni Yoshikatsu

[ Signature ] omote : Chikuzen jû Minamoto Nobukuni Yoshikatsu
[
Size
]
Blade length 70,90cm (2 shaku 3 sun 3 bu 9 rin), sori1,40cm (4 bu 6 rin), moto-haba 3,16cm, moto-kasane 0,72cm, saki-haba 2,25cm, saki-kasane 0,51cm, mekugi-ana(hole) 1, blade weight 676,5g
, shirasaya length 100cm, koshirae length 103cm
[ Period ] Edo, middle of (around Enpô)
[ Province ] Chikuzen
[ Feature ] Form : Shonogi-zukuri, iori-mune. Mihaba is relatively wide. Kasane is ordinal. Shallow sori attached. Chukissaki extended form.
Nakago : Ubu. Saki is kurijiri. One hole. There are his on omote and ura.
Jigane : Ko-itame-hada well grained. Komokumes mixed. Jinies attached. Chikei appeared.
Hamon : Chu-suguha. Konies attached. Ko-ashis and sunagashi appeared.
Boushi : It runs in sugu and saki turns in togari-gokoro.

Nobukuni Yoshikatsu was a swordsmith of Chikuzen Nobukuni school who worked in the middle of Edo period, around Enpo. Chikuzen Nobukuni school had an acestor Anshin-in school swordsmith first generation Yoshisada who lived in Buzen province. First generation Yoshisada was invited to Hakata by Nagamasa KURODA who was moved from Buzen to Chikuzen. His school flourished continuously during Edo period from the time when he became hired swordsmith in February Keicho 2(1597)

Kuroro-iro kin-gasumi-nuri uchi-gatana-koshirae ; Tsuba : Ha-ryu(waves and dragons)-zu sukashi(inlay)(dô(copper alloy)-ji);Fuchi-gashira : Ryu(doragons)-zu(shakudô nanako-ji taka-bori kin-iroe); Kozuka : Ryu(dragon)-zu (shakudô nanako-ji taka-bori, kin-iroe); Kô-gai-zuka : (shakudio nanako-ji taka-bori kin-iroe)


[ Conditions ] There is one centimeter long kitae-kizu (natural flaw of graining) 22cm above machiue omote. Relatively simple shirasaya, a little loosened holding of tsuka but no problem for preserving and using.
[ Attachments ] Habaki (suaka-ji gold foiled double), shirasaya, bag of shirasaya, koshirae, bag of shirasaya, NBTHK Tokubetsu Kicho paper
[
Item number
] A020916 [
Price
]
JPY 330.000(shipping and insurace fees are not included
)