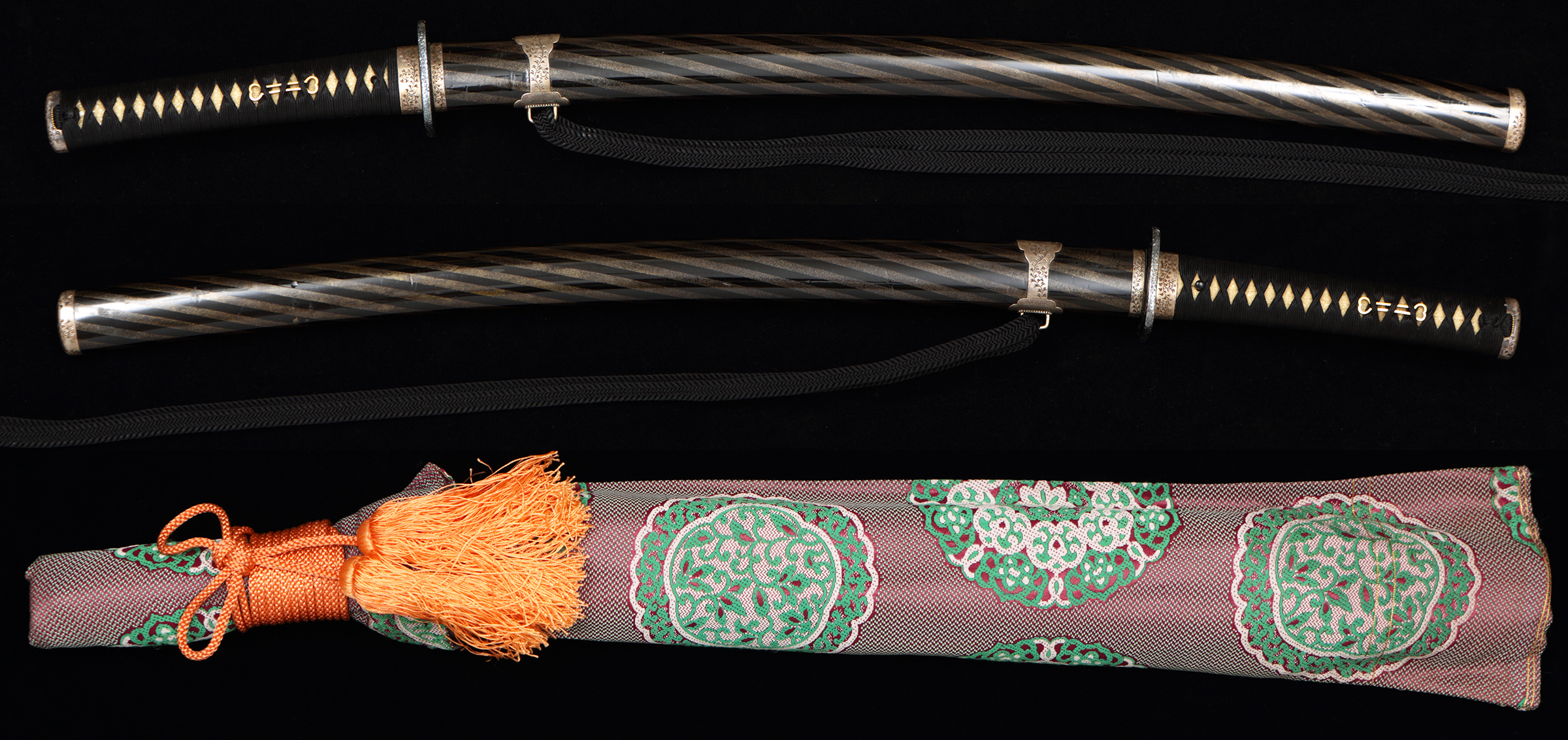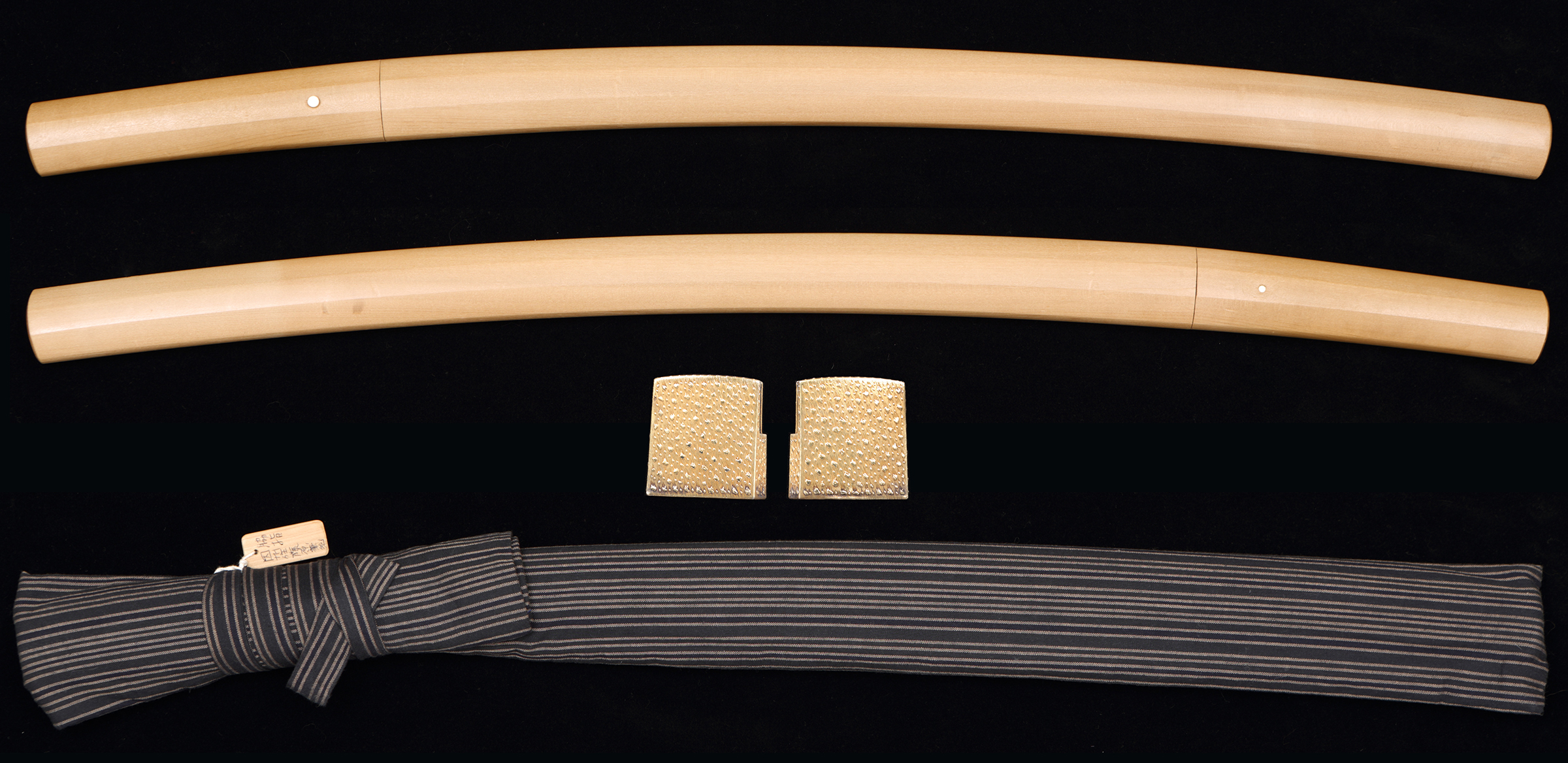 Wakizashi, Shirasaya, Koshirae

[ Signature ] omote : Inshû-jû Fujiwara Kanesaki "因州住藤原兼先" ura : -

[
Size
]
Blade length 56,66cm (1 shaku 8 sun 7 bu 0 rin), sori 1,51cm (5 bu 0 rin), moto-haba 3,18cm, moto-kasane 0,70cm, saki-haba 2,23 cm, saki-kasane 0,41 cm, mekugi-ana(hole) 1, blade weight 609g
, shirasaya length 78,5cm
[ Period ] Edo, in the middle of
[ Province ] Inaba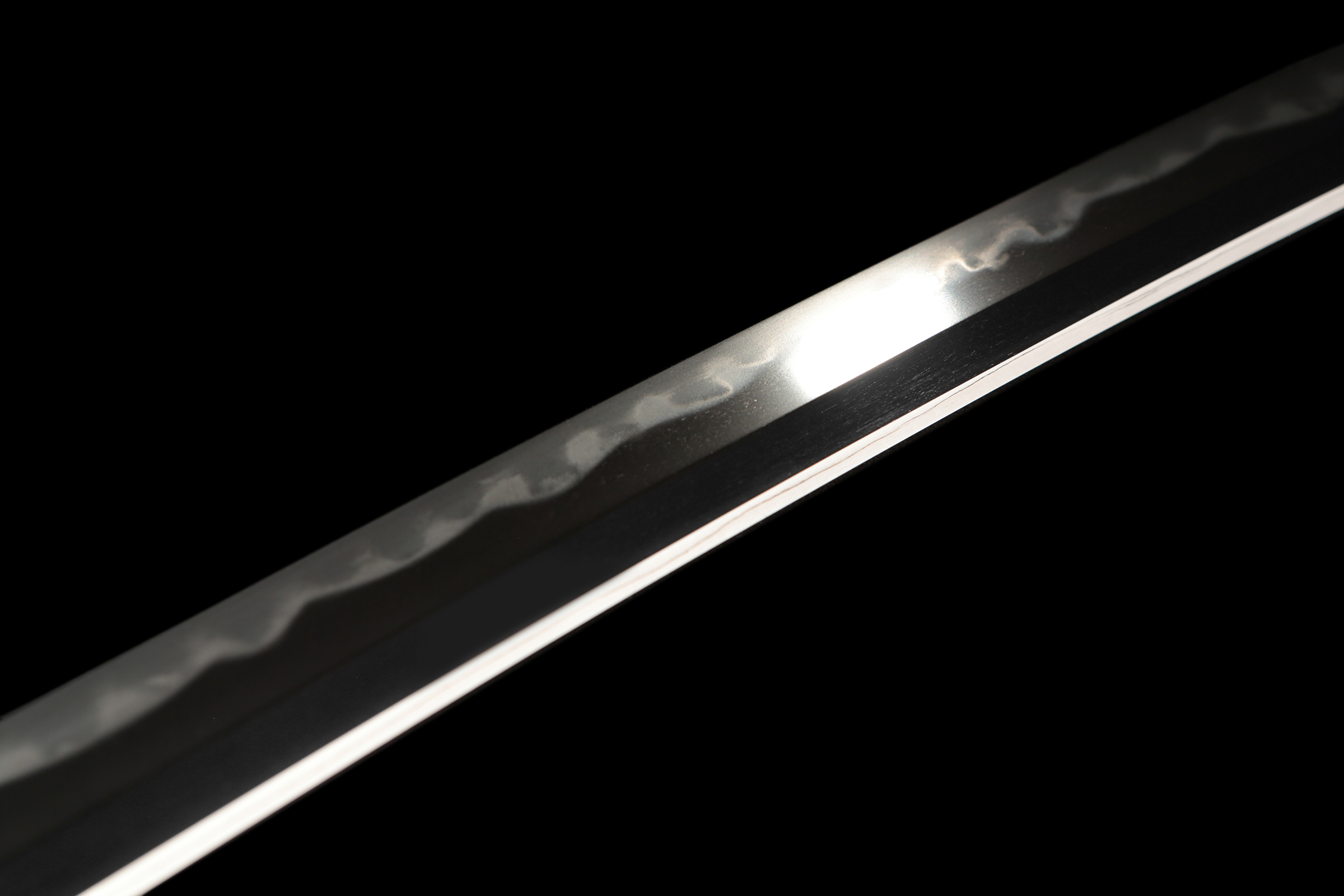 [ Feature ]
Form : Shinogi-zukuri. Iori-mune. Mihaba is wide. Kasane is ordinal. Sori attached. Chû-kissaki extended form.
Nakago : Ubu. Yasurimes are higaki. Saki is ha-agari kurijiri. Ohe hole.
Jigane : Ko-itame-hada, which shows nagare-gokoro. Ko-mokume mixed.
Hamon : Gunome midare in nie-deki. Sakagokoro ("ha" which direct more or less upward) Yahazu (the part arrow, which receive bow string) shape "ha"s, togari-bas and chô-ji-bas mixed. Mura-nie attached. Ashis and yô appeared. Small tobi-yaki and sunagashis appeared.
Boushi : Saki becomes more or less sharpened komaru. Fine hakikake, it turns in long.

Karakusa-zu-soroi kanagu hirumaki-nuri wakizashi koshirae : karakusa-zu tsuba(shakudô-ji ke-bori kata-giri-bori mei : "鯉家守住"(kaô), karakusa-zu fuchi-gashira, tsuri-kanagu, kojiri (gin-ji, ke-bori, katagiri-bori mei : "鯉家守住"(kaô), kenuki-gata menuki(shinchû-ji)
唐草図揃金具蛭巻塗脇差拵 : 唐草図鐔(赤銅地毛彫片切彫 銘 : 鯉家守住 (花押))、唐草図縁頭・吊金具・鐺(銀地毛彫片切彫 銘 : 鯉家守住 (花押))、毛抜形目貫(真鍮地)


[ Highlight ] Kanesaki school was conidered as derived from MinoSeki school. They had been continued since Muromachi period. Around Keichô "慶長" era, they moved in Tottori, Inaba province. Since then, they continued swords creation as hired swordsmith of Inshû Tottori clan untill Meiji period. Well grained jigane, gunome-midare hamon in nie-deki, which mixed yahazu shape "ha"s, togari-bas and chô-ji bas. There are changes in "ha"s, sunagashi appeared. It shows bold hamon. Koshirae with ensembled with kara-kura-zu metal fittings attached.


[ Conditions ] On the blaed, there is shallow and long kitae-ware on mune. Koshirae has a little dent but rest part maintains fine conditions.
[
Attachments
] Habaki( suaka-ji, gold foiled, single), shirasaya, bag of shirasaya, koshirae, bag of koshirae,
Tôken Hozon kai shô-shin paper (issued on 15th October, Heisei 12(2000)
,
NBTHK Hozon paper (issued on 17th February Heisei 15(2003))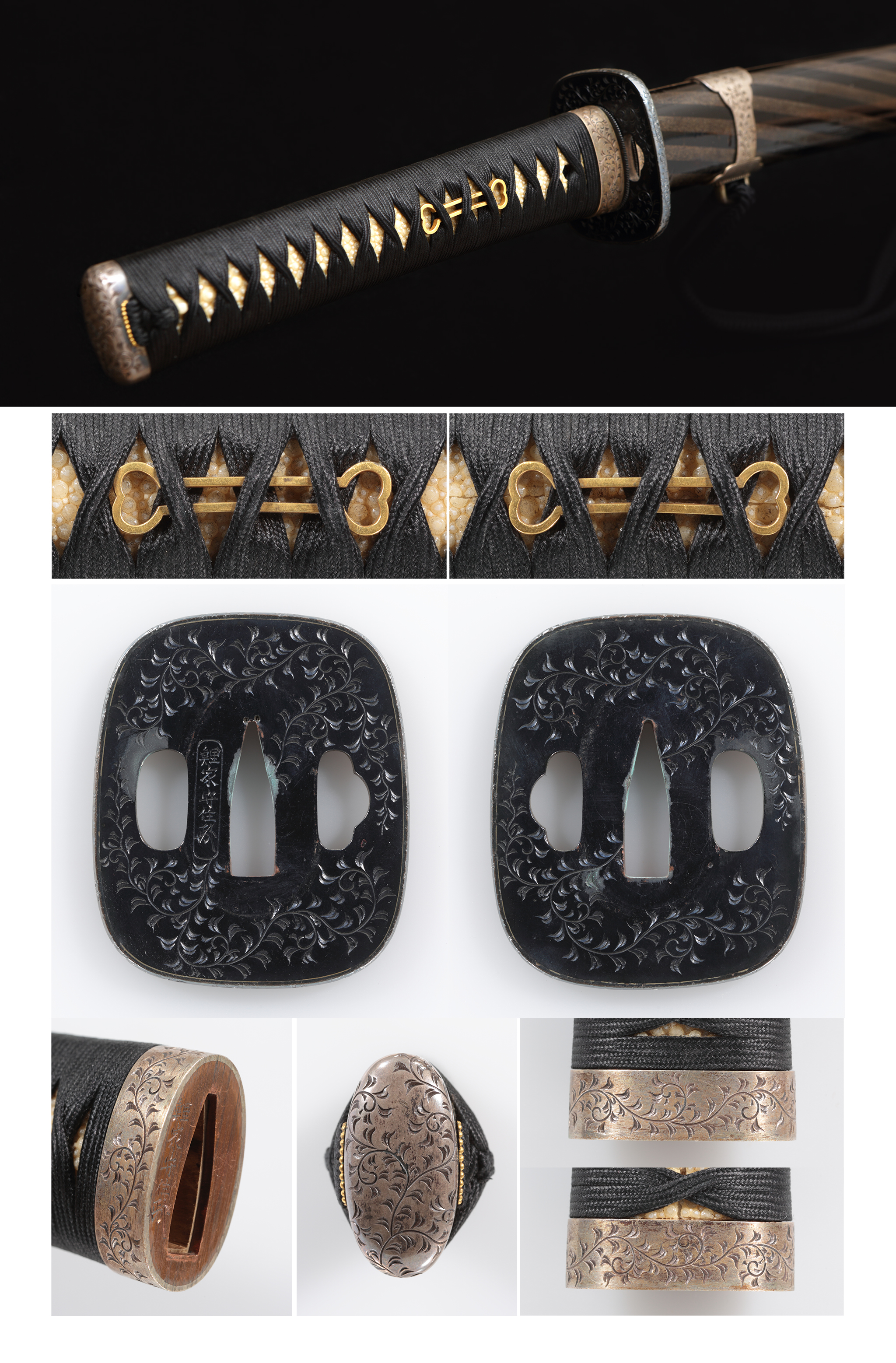 [
Item number
] A020718 [
Price
]
JPY 850.000
(shipping and insurance fee are not included)