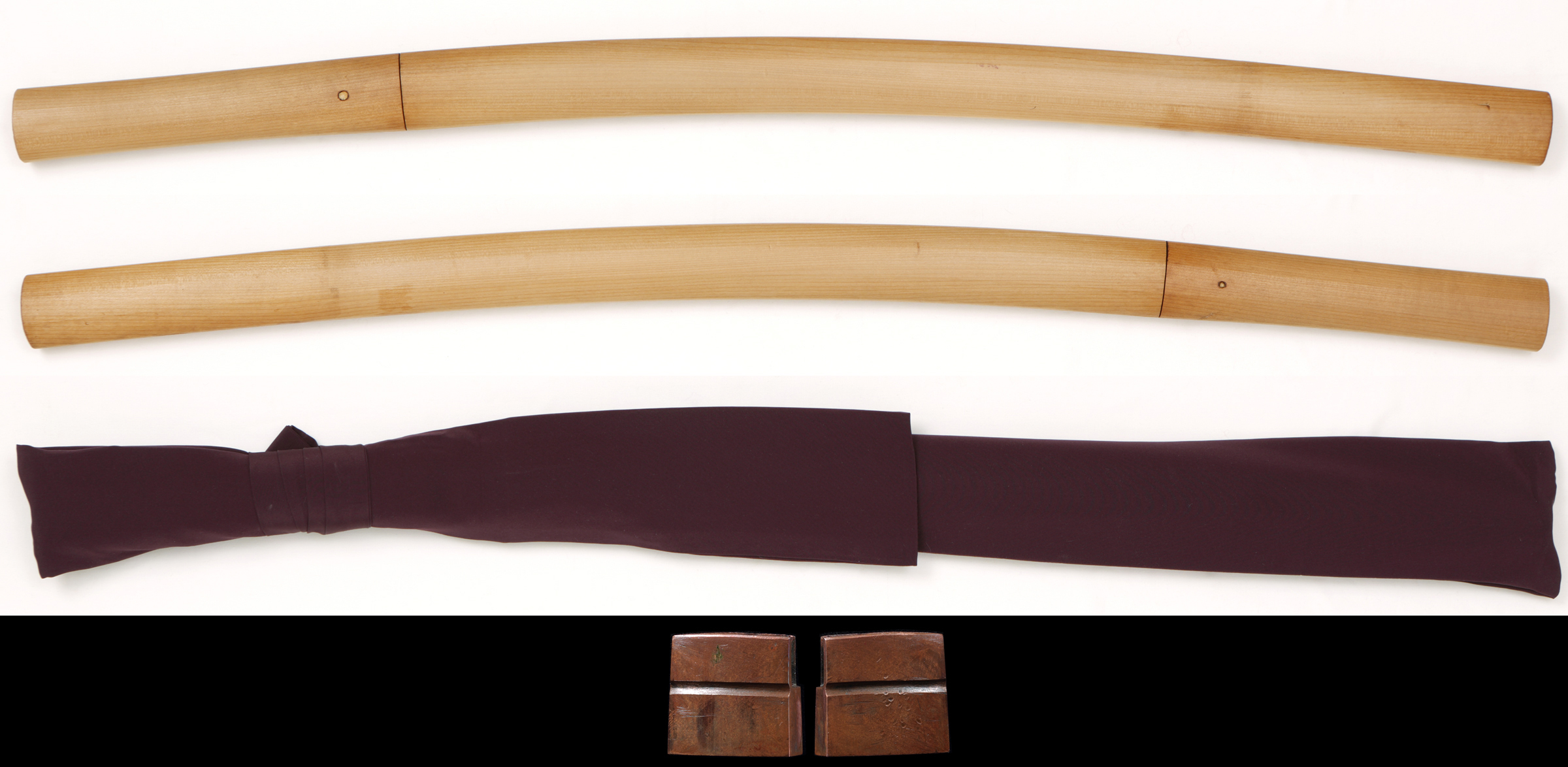 Wakizashi, Shirasaya

[
Signature
] omote :
Noto no kami Fujiwara Yasuyuki "能登守藤原泰幸
" ura : -
[
Size
]
Blade length 54,0cm (1 shaku 7 sun 8 bu 2 rin), sori 1,7cm (5 bu 6 rin), moto-haba 2,90cm, moto-kasane 0,73cm, saki-haba 1,92 cm, saki-kasane 0,49 cm, mekugi-ana(hole) 1, blade weight 521,5g
, shirasaya length 81cm
[ Period ] Edo, around Kanei
[ Province ] Owari
[ Feature ]
Form : Shinogi-zukuri. Iori-mune. Mihaba is ordinal. Kasane is relatively thick. Clear sori attached. There is a slight difference of width, between moto and saki. Chû-kissaki, point is a little shortened form. There are bô-"hi"s on front and back side of blade.
Nakago : Ubu. Yasurimes are ô-suji-kais. Saki is kurijiri. One hole.
Jigane : Ko-itame-hada well grained. Nagare-hada mixed. Jinie attached. Chikei appeared.
Hamon : Sugu-ha. It has shallow notare. Ko-nie attached.
Boushi : It runs in sugu. Rich nie attached. Saki becomes more or less sharpened. It becomes ko-maru, then turns a little deeper.

Noto-no-kami Yasuyuki was born in Mino province. Then he moved into Owari. He was known as working actively around Kanei era. The swords which have signiture "年紀" Kanei 20 "寛永二十" are considered as created in his last years.

Referenced materials : "新版 日本刀講座 新刀編" by HONMA Kunzan, SATÔ Kanzan, Yuzankaku publishing, Heisei 9(1998), "日本刀銘鑑", edited and written by ISHII Masakuni, audited by HONMA Kunzam, Yuzankaku publishing, Heisei 15(2003), "新刀大鑑 巻之一", IIMURA Yoshiaki, Tô-ken Bijyutsu Kô-gei-sha, Showa 51(1976)

[ Highlight ]
Kasane(thickness) is more or less thick. Powerful form is given by attached sori. Ko-mokume hada is well grained. Fine jinie attached. Pale chikei appeared in botom of forged iron appearance. Nie attached suguha with shallow notare represent clear nioi-kuchi.

[ Conditions ] Tiny rust observed.

[ Attachments ] Habaki (suaka-ji, single), shirasaya, bag of shirasaya and NBTHK Tokubetsu hozon paper (issued on 18th December Heisei 10(1998))

[
Item number
] A010717 [
Price
]
JPY450.000 -> JPY 380.000-
PRICE DOWN!
(shipping and insurance fee are not included)