Tanto, Koshirae

Mumei, attributed to Fuyuhiro

[ Signature ] no signature
[
Size
]
Blade length 25,6cm (8 sun 4 bu 4 rin), sori 0cm, moto-haba 2,17cm, moto-kasane 0,58cm, mekugi-ana(hole) 1, blade weight 126,2g
, koshirae length 37,5cm
[ Period ] Muromachi, second half of
[ Province ] Wakasa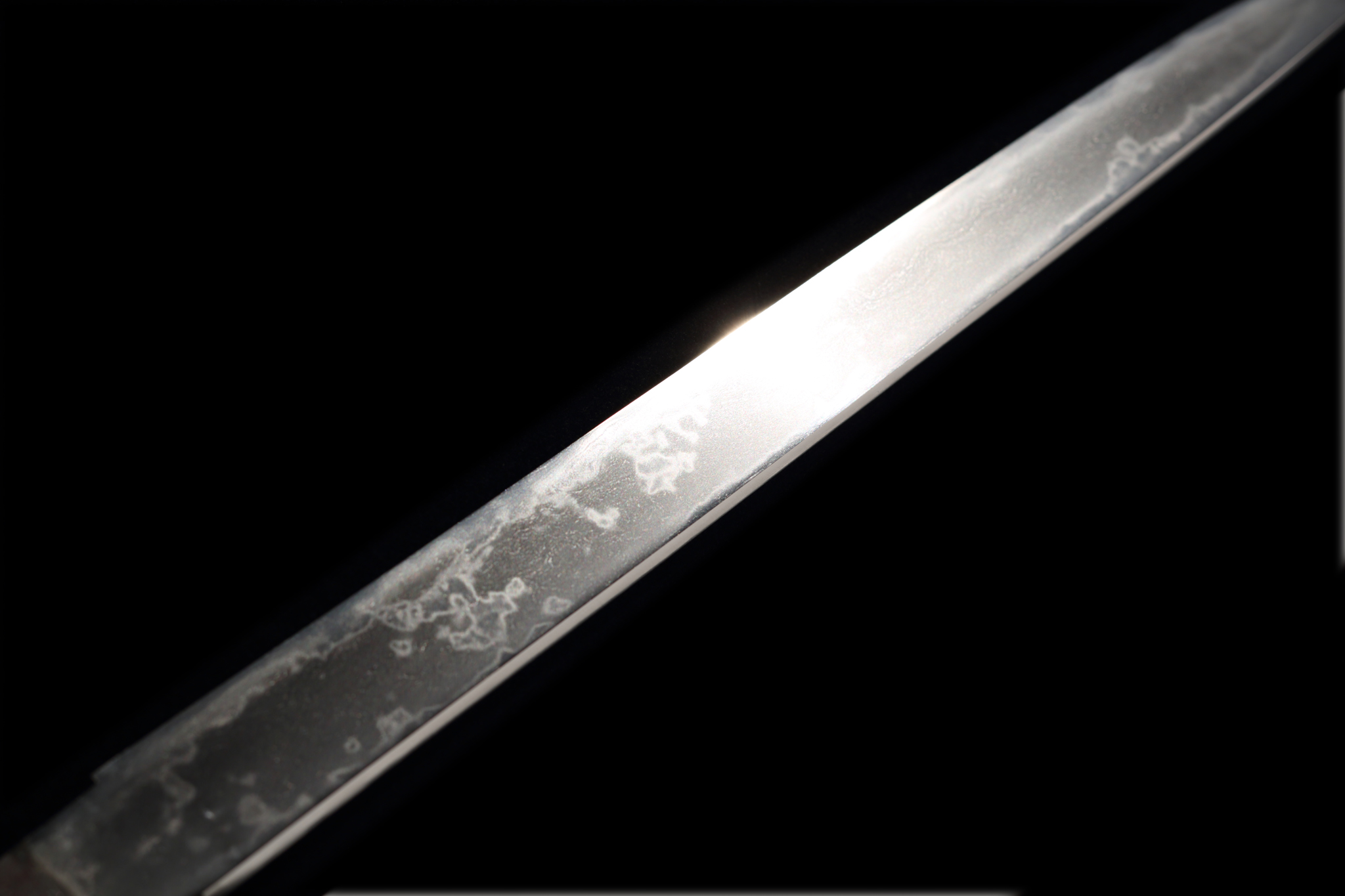 [ Feature ]
Form : Hira-zukuri. Iori-mune. Mihaba is narrow. No sori attached. Toward saki, the line utsumuku hangs down it kissaki a little. Fukuras shows kareru state.
Nakago : Ubu. Yasurimes are kattesagari and keshô on omote side, sujikais and keshô on ura side. Toward nakago-saki, the outline of ha side has some roundness. The width becoming narrower. Saki is ha-agari kuri-jiri. One hole.
Jigane : Itame-hada, which flowing a little. A little hadatatsu state. Jinie attached. Chikei appeared. It has some shirake-gokoro.
Hamon : Notare-midare. Nioikuhi is in shimari-gokoro. Gunomes and togaribas are mixed. Ko-ashis appeared. Fine nie and sunagashis appeared around ha-buchi. Tobiyaki and muneyakis appeared.
Boushi : It locate for ha-side on omote, normal on ura side. Both sides midare-komu state. It has ko-maru shape. It turns in variety of form and long. It shows hitatsura.

Kawari-nuri ai-kuchi-koshirae : ko-sen-gata shinchû-sei kanagagu, kô-mori-gata tetsu-ji kanagu, aoi-mon suaka-ji kin-tokin kô-gai
変わり塗り合口拵 : 古銭形真鍮製金具、蝙蝠形鉄地金具、葵文素銅地金鍍金笄

[ Highlight ] First generation Fuyuhiro, who was said as a child of third generation Sô-shû Hirotsugu or his pupil. He started to live at Obama in Wakasa province around Kansei. Since then, Fuyuhiro school flourished toward Edo period with ten and some generations. This narrow sword has takenoko (bamboo shoots)-zori form. Forged in itame. Well densed, tight nioikuchi hitatsura blade. It shows sue-soshû atmosphere and shirake-gokoro.The laquering of koshirae is different each other on tsuka and saya. Tsuka surface similar to that of leather. Saya surface shows that of wood. Black-brown based suface, gold laqucker work given. Quiet, calm taste aikuchi-koshirae. Mekugi is made of a horn of water buffalo. Around of mekugi-ana edge, it uses same material.

[ Conditions ] It has already polished.

[
Attachments
] Habaki (suaka-ji, silver foiled, single), koshirae, bag of koshirae and
NBTHK hozon paper (issued on 30th May Heisei 29(2017))


[
Item number
] A010618 [
Price
]
SOLD