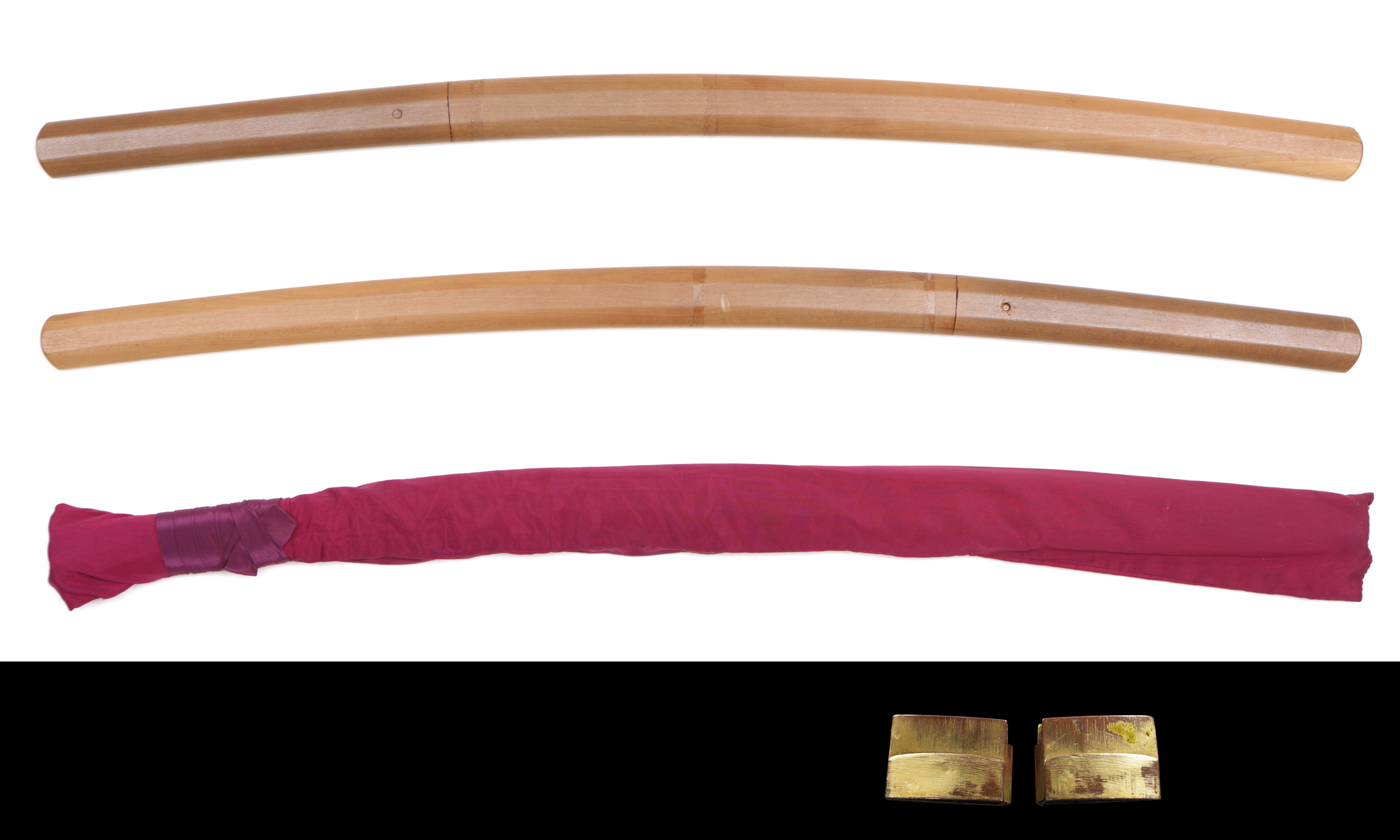 Wakizashi, Shirasaya
[ Signature ] mei(omote) Tango-no-kami Kanemichi
[ Size ] Blade length 54,6cm (1 shaku 8 sun 0 bu 1 rin), sori 1,2cm (3 bu 9 rin), moto-haba 3,10cm, moto-kasane 0,72cm, saki-haba 2,22cm, saki-kasane 0,58cm, mekugi-ana(hole) 1, blade weight 546,5g, total length of shirasaya 88cm
[ Period ] Edo, first half of.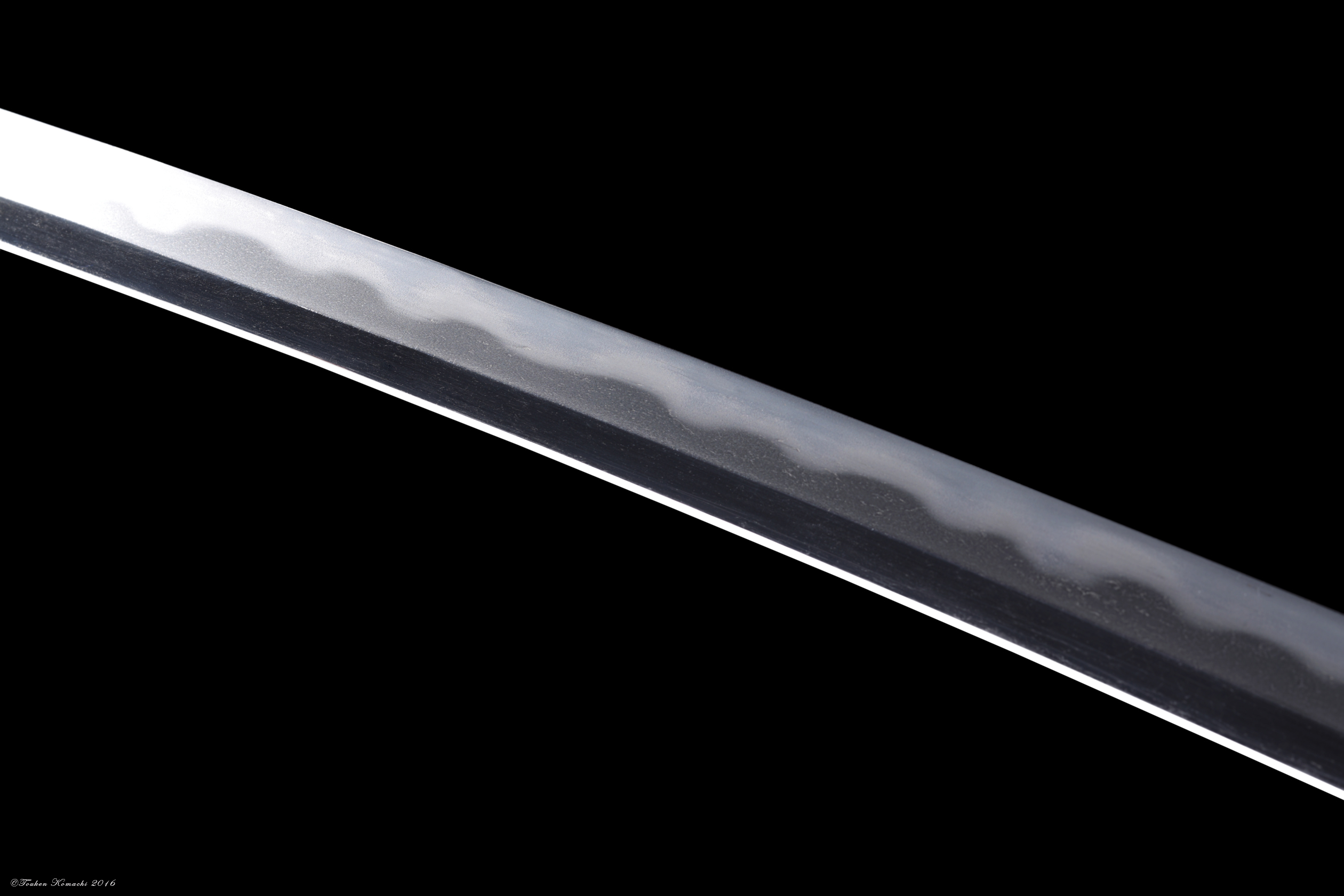 [ Feature ] Form :Shinogi-zukuri, Iori-mune. Mihaba is a little wide. Kasane is relatively thick. Sori attached. Chu-kissaki extended form.
Nakago : Ubu. Yasurimes are suji-kais. Saki is iriyama-gata. One hole.
Jigane : Ko-itame-hada well grainded. Mokume mixed. Jinie attached well. Chikei appeared in fine.
Hamon : There are short yakidashis in sugu at moto. Repeated two or three sequenced gunoes, putting ko-notare between them, are shown. Nie attached rich above nioi. Ashi, kinsen and sunagashi appeared frequently.
Boushi : In sugu and komaru. It turns a little longer.

First generation Tango-no-kami Kanemichi was said that he was second son of Kyo second generation Tanba-no-kami Yoshimichi. He called himself as Mishina Kichibei. He moved from Miyako(Kyoto) to Osaka, created the swords. Second generation Kanemichi was a child of first generation Kanemichi. He called himself Kiheiji. During Genroku era, he created swords in Edo, too. Both of them, the remaining swords with nenki are rare. However, those small number of nenki-meis show us that for first generation was Kanbun, second generation was around the Genroku-Hoei, when they created swords actively.

[ Highlight ]The nie based hamon in o-gunome-midare with relatively wide yaki-haba is splendid. First half of Edo era, Osaka, as the center of Japan's flourish economy, Genroku culture was booming, and its lively momentum was in the background, the sword reflected epidemic of Osaka Shinto swords in bright Niokikuchi with do-ran style gunomes.
It represents the workmanship of Kanemichi in one typical style. The sword is charming with powerful form, kissaki a little extended and some « fun-baris ».( the width difference between moto and saki. The sori attached below part of blade.)

[ Conditions ] There are tiny scrathes. There are very tiny rusts, mune side 1cm above of machi, on shinogi-ji, hira-ji and hasaki of about 10cm above machi. It has no effect on appreciation so that it can be preserved and appreciated as it is.
[ Attachments ] Double copper gold colored habaki, shirasaya, bag of shirasaya and a NBTHK Hozon paper (issued on 14 July Heisei 27(2015))

[ Item number ]
A010416
[ Price ]
JPY
270,000 (shipping and insurance fees are not included in the price)