Touken Komachi

Click each image to enlarge.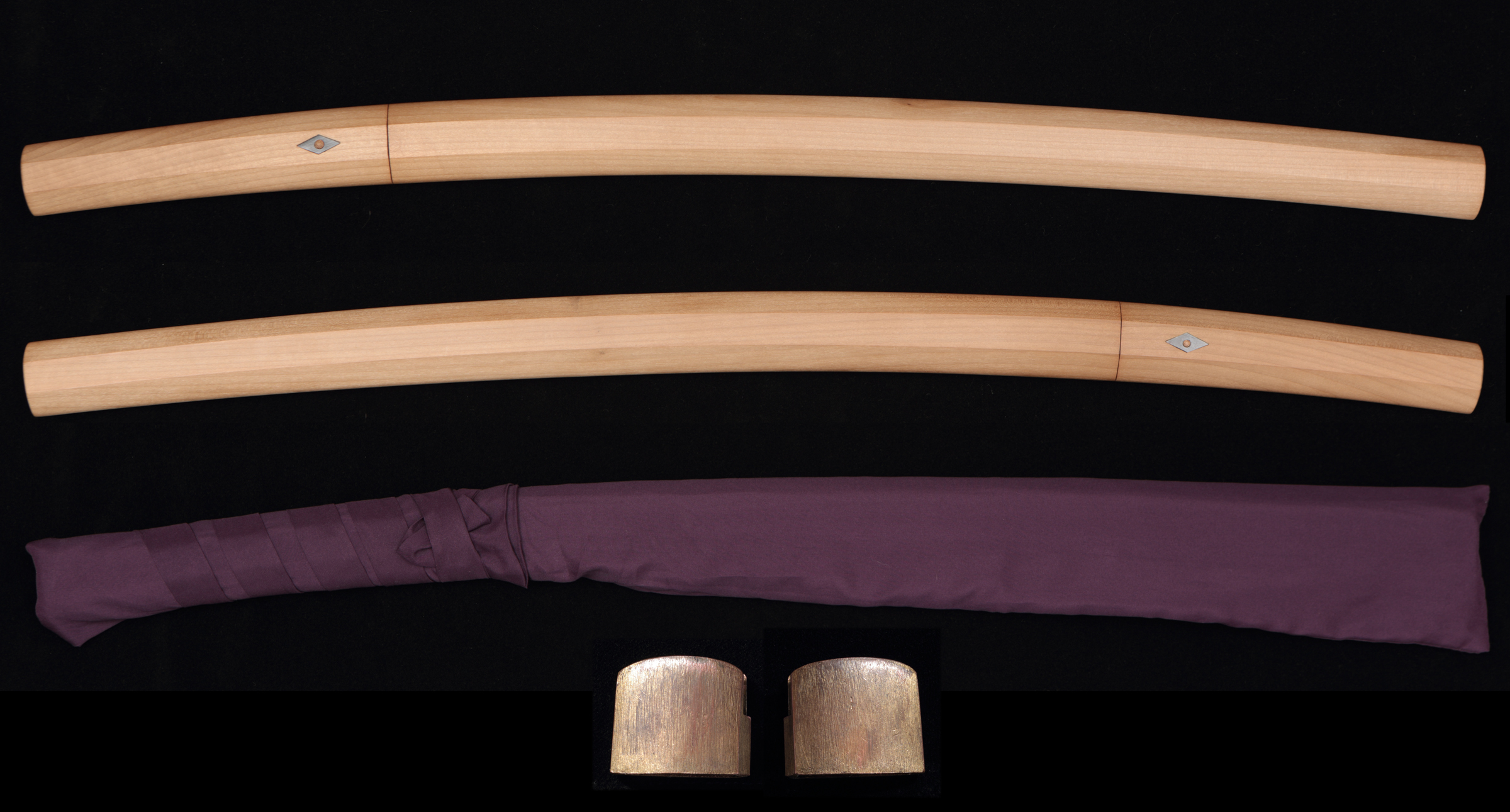 Wakizashi, Shirasaya

[ Signature ] omote : "大和守源康道" ura : -

[
Size
]
Blade length 53,2cm (1 shaku 7 sun 5 bu 5 rin), sori 0,8cm (2 bu 6 rin), moto-haba 3,10cm, moto-kasane 0,80cm, mekugi-ana(hole) 1, blade weight 449g
, shirasaya length 76,5cm
[ Period ] Edo, middle of, around Kanbun
[ Province ] Owari
[ Feature ]
Form : Shigi-zukuri. Iori-mune. Mihaba and kasane are both ordinal. There are differences between moto-haba and saki-haba. Shallow sori attached. Chû-kissaki shortened form.
Nakago : Yasurimes are ô-sujikais. Saki is iliyama-gata. There are bô-"hi"s both on omote and ura. They stop at machi-ue in maru-dome shape.
Jigane : Itame-hada, transforms into masa. Jinie attached. Hada is significant a little.
Hamon : Chô-ji-midares. Gunomes, ko-gunomes and ko-chô-ji mixed.
Bôshi : It runs in sugu, then turns in komaru long. Saki has a little hakikake.

Yamato-No-Kami Yasumichi had his native place in Seki, Mino province. He created swords at Owari around Kanbun era. He was considered as descendant of Akasaka Senju-in Yasumichi. He learned under Yasutsuna. He signed his signature as "大和守源康道". 年紀銘(time tamps) : "寛文八", "寛文十一", etc. His characteristics of swords showed chô-ji-midare like this sword, sugu-ha in well grained itame.
[ Conditions ] Already polished. Some parts show a little rough surface at jigane in "hi".
[
Attachments
] Habaki (suaka-ji, gold colored, single), shirasaya, bag of shirasaya,
NBTHK Hozon paper (issued on 26th August Heisei 28(2016))

[
Item number
] A010217 [
Price
]
JPY 180.000
(shipping and insurance fee are not included)
Please order by
E-mail
.

About TOUKEN KOMACHI

BACK
TEL&FAX +81-(0)3-5284-9014
____
E-mail :
s_tsukada@toukenkomachi.com

Copyright © 2009 Touken komachi All rights reserved.