Katana, in Shirasaya, with Koshirae

[ Signature ] (omote) : Kanenaga
[ Size ] : Blade length : 74.2cm (2 shaku 4 sun 4 bu 8 rin), sori : 2.3cm (7 bu 6 rin), moto-haba : 3.00cm, moto-shinogi-kasane : 0.76cm, saki-haha : 2.05cm, saki-kasane : 0.53cm, mekugi-ana(hole) : 1, blade weight : 790.5g, shirasaya length : 100cm
[ Period ] : Second half of Muromachi, about Eiroku - Tensho
[ Province ] : Seki, Mino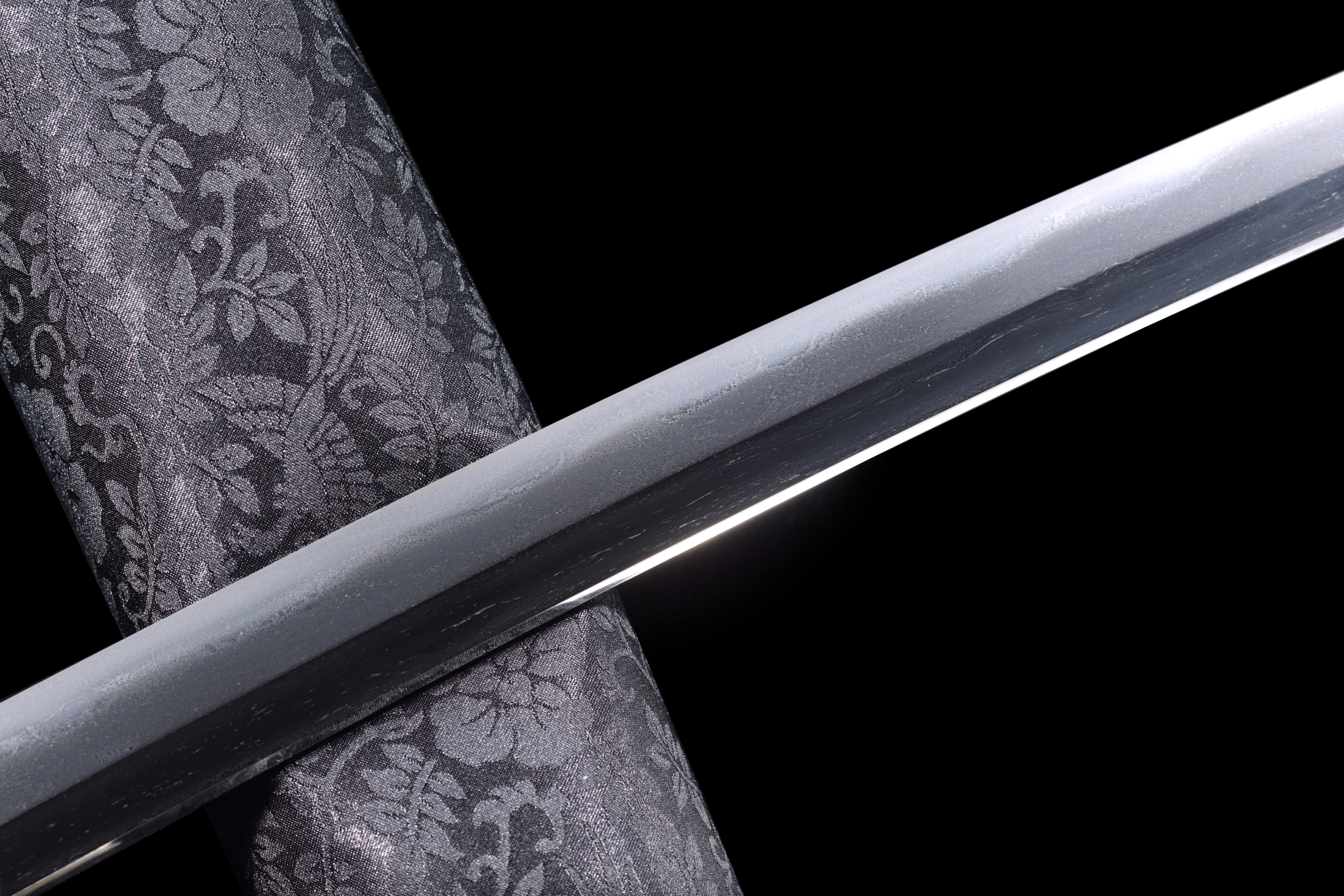 [ Feature ] : Shape : Kasane is thick, weighty mass. Strong form reflecting historical background, forging surface is wild. Typical sword atmosphere which made during Sengoku(war between feudal lords)-era.
Jigane : Highly grained, itame-hada, rough part by part, flown bright. Hamon : Notare, irregular gunome mixed. Nie attached very much.
Boshi : Nie attached more frequent, almost hitatsura from monouchi of sashi-omote to kissaki. It is very vital.
Signature : Two characters in large shape.

It was said that first generation Kananega was de fact ancestor of Mino swordsmith, who moved from Yamato province. Kanenaga was a brand name which continued till end of Edo. There are several Kanenaga swords with different signatures.
Based upon jigane, form and nakago, this sword is considered as made at Seki, Mino about Eiroku - Tensho.

Tensho-koshirae made recent years is attached. Very good conditions. Tsuka is consist of aged fuchi with nami(wave)-hori, kuro-urushi-nuri same(shark skin), san-so-menuki with daki-myoga and yabane motif. Tomonuno(same material) sageo as tsuka-maki. Tachi-habaki made of suaka(copper) and kin-kise(gold foiled)

[ Condition ] : Nakago is ubu, maintains original form. Reduction of kasane is small. It keeps healthy conditions. Sashikomi polishing has been done. Habaki, koshirae and shirasaya has no damages, excellent.
(Above explanations are based on kind offering by the owner)

[ Highlight ] : A little higher shinogi, sori attached a lot. Splendid form.
Nakago with higaki-yasuri is ubu, smooth surface in hand. It maintains excellent conditions.
Very well grained kitae-hada has specific shirake-gokokoro. Notare-midare hamon in nie-deki mixed gunome, togari-ba, ash and yo. Kinsuji and sunagashi appeared brightly. Yubashiri observed as well. Highly motivated.

It is splendid the koshirae with urushi-nuri, appreciating its artistic beauty.

[ Accessories ] Copper based gold foiled habaki, shirasaya, bag of shirasaya, koshirae, bag of koshirae and NBTHK Tokubetsu Kicho paper
[ Item number ] : A050215
[ Price ] :
JPY 1,000,000
- -> JPY 650,000-
PRICE DOWN!!
(shipping and insurance fee not included)